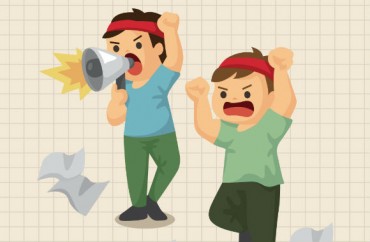 Approximately 70 Ohio University students were held for criminal trespassing after they "occupied" the fourth-floor lobby of the campus Baker Center yesterday.
Students demanded that President Roderick McDavis declare the school a "sanctuary campus" in addition to "sp[eaking] against capitalism and the Dakota Access Pipeline."
According to The Post, after a brief march through the streets activists then arrived at Baker. Not-so ironically, although capitalism was one of their complaints, the occupiers "brought pizza and water bottles" while "[t]hey sat with laptops and notebooks" to do homework.
White students were requested to sit on the outside so as "to protect trans, minority and international students."
Police moved in and began detaining students at the edges at about 8 p.m. They handcuffed them with flexible plastic cuffs and detained them in Baker Ballroom. …

[Ohio University Police Chief Andrew] Powers said the demonstrators were cited for trespassing because the fourth floor in Baker is not a meeting space, and the students were blocking foot traffic after he asked them to leave.

"It was not our preference to arrest people," Powers said. "They left us no choice."

A statement from the university, posted on Facebook [see here], stated that "disruption of University operations is unlawful." …

MORE: Ohio U. student leaders demand campus bias reporting system

Some of the protesters marched on Court Street again, stopping at the Courthouse before returning to Baker to "rejoin their comrades."

When they returned, they chanted, "the people united will never be defeated," and sang songs including "This Land is Your Land."

A crowd gathered in the fourth-floor lobby again as people waited for their friends to be released. Some people heckled the police guarding the Collegium where people were detained.

"Who do you protect?" a few shouted.
That "heckling," by the way, included shouts of "F*** THE WHITE POLICE!" (Check the video around the 3:10 mark.)
Nevertheless, The Post notes at least one student commended the cops: "They were polite — they kept a decorum," he said. "Some folks had cuffs too tight, and (police) adjusted them accordingly."
MORE: Ohio U. flips out over 'defacement' of BLM message on 'graffiti wall'
MORE: Black prof: Ohio University is 'most racist place I've ever lived'
Like The College Fix on Facebook / Follow us on Twitter
IMAGE: Shutterstock