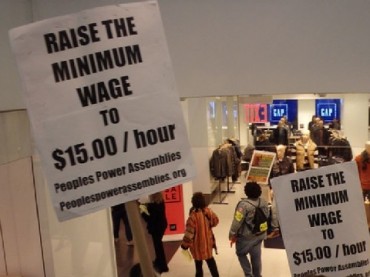 The $15 minimum wage demanded by Ohio University's student senate earlier this month has been greeted with derision not only by the administration, but also the school's nationally recognized economist.
Though the surrounding community in Athens is "progressive" and "many people would favor a higher minimum wage, making these huge demands comes across as sort of a radical move, and these people are clueless about economic reality," Richard Vedder, emeritus professor of economics, told The Post.
Such a steep wage hike is a "horrendously bad idea," said Vedder, who also leads the Center for College Affordability and Productivity.
The senate approved a resolution Oct. 8 asking the school to make economic changes affecting the endowment, tuition, administrative salaries and minimum wage.
The sought $15 wage would be an 89 percent increase over Ohio's $7.95 minimum wage. The wage is scheduled under state law to rise 15 cents in January, to $8.10.
It's not the resolution that's "unrealistic" but "the status quo," Will Klatt, government affairs commissioner for the senate, said at the meeting where the resolution was approved, according to The Post.
Senator Jacob Chaffin said a wage hike would affect about 1,500 students. "How do we shift dynamics?" he said at the meeting. "Looking at history, when making these demands, it takes organizing people."
Klatt and Chaffin did not respond to College Fix requests to explain the sought wage hike in detail, such as whether it would apply to all staff, not just student workers. The senate does not appear to post its resolutions online.
The Post said last month that 47 percent of student jobs on campus are minimum-wage positions, with hundreds in culinary services. Students are limited to 20 hours of paid work a week, but positions range from $7.95 all the way up to $30, according to Mary Alexander-Conte, director of Payroll Services.
The senate plan demands a tuition freeze, in line with the campaign pledge of controversial senate President Megan Marzec. In the current academic year, Ohio University students will pay either $10,536 or $19,500 a year, depending on residency status.
According to The College Board, the school's cost is 21 percent higher for residents than the average four-year public college and 10 percent lower for out-of-state students.
Stephen Golding, the administration's vice president for finance and administration, told The Post that even a student wage increase of 25 percent could "require a tuition increase to cover the cost of the wage increase."
Golding also poured cold water on a tuition freeze, saying the "last 20 years of insufficient investments" have led to "the current condition of our facilities," noncompetitive faculty wages and "insufficient administrative support personnel" for faculty.
Senators also wanted a ban on pay raises for administrators making more than $200,000 – positions that include Ohio University's head basketball and football coaches, who earn $550,000 and $488,880 a year, according to The Post.
The senate additionally wanted more transparency around the endowment and called for the university to divest from fossil fuels.
Economist Vedder agreed that Ohio University could eliminate several "unnecessary" administrative positions "without any qualitative loss whatsoever," but said a ban on higher-income pay raises would "in time … negatively affect our ability to attract good people," especially athletic coaches.
College Fix reporter TJ Jan is a student at Seattle Pacific University.
Like The College Fix on Facebook / Follow us on Twitter
IMAGE: All-Nite/Flickr