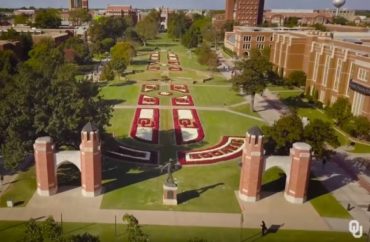 Oklahoma's public universities have poured over $83.4 million into diversity, equity, and inclusion initiatives over the last decade, leading critics — including some state lawmakers, conservative watchdogs and alumni — to call for DEI to be defunded in the Sooner State.
They argue it's a waste of money, has created divisive campus atmospheres, and is possibly unconstitutional.
The $83.4 million is the sum of all the DEI spending by Oklahoma's public colleges and universities since the 2013-14 school year, a figure provided by campus leaders after State Superintendent Ryan Walters demanded the information earlier this year.
Line-item details showed that DEI events at Oklahoma colleges "have included funding for drag-queen performances, a program on fostering 'Trans and Non‐Binary Resilience,' so-called 'antiracist' training, and a presentation on 'Black Jesus,'" the Oklahoma Council of Public Affairs reported.
During the 2022-23 academic year, the schools spent over $10 million on DEI activities and payroll costs — the highest amount in the last 10 years and up from $7.1 million in 2013-14, the campus officials reported.
The spending has prompted some major Oklahoma donors to yank their funding, and over the summer some Republican state lawmakers proposed a resolution to defund DEI in higher education.
Most recently, in mid-October, the Oklahoma Senate Education Committee hosted a study discussion highlighting the harmful effects of diversity, equity and inclusion in higher education, a lengthy meeting that featured a parade of scholarly experts who criticized DEI.
Among the speakers was Manhattan Institute scholar Ilya Shapiro, a constitutional law expert, who co-authored a policy paper earlier this year calling for the abolition of DEI.
In an interview with The College Fix, Shapiro said that while the idea of DEI is nice, the "way these structures have been implemented, it means the opposite, in a very Orwellian-like way."
"Students, including racial minorities, feel less welcome on campuses today than they did 20 years ago when we didn't have these measures in place," he said.
Also testifying before the senate was Oklahoma Council of Public Affairs President Jonathan Small, who argued that taking money away from universities is the only way to make campus leaders respond.
"When higher ed won't get the message, if they remove funding, higher ed starts to behave in a manner that's more befitting of the billions of dollars that it's getting with taxpayer dollars," Small said.
The DEI funds are shouldered by taxpayers, tuition and donors, Brandon Dutcher, vice president of OCPA, a conservative think tank, told The College Fix.
OCPA also reported that experts testified DEI initiatives may violate the 14th Amendment's equal protection clause, since it usually requires "discrimination against some groups and special treatment for others based on race or other identity factors."
During the discussion, higher education policy expert Adam Kissel also pushed back on the argument that DEI is required in higher education to meet accreditation standards.
"Although it is true that accreditors have DEI standards, and you saw some of them posted, those standards don't require DEI officers," said Kissel, a visiting fellow at the Heritage Foundation. "They don't require DEI offices. And they don't define DEI in such a way that a university has to define it in terms of race or underrepresented groups in most cases."
Dutcher said the momentum is building in Oklahoma to defund DEI.
"Encouragingly, some donors—including a neurosurgeon and two members of the Oklahoma Hall of Fame—have finally said enough is enough," Dutcher told The Fix. "It's time for state lawmakers and Gov. Kevin Stitt to do likewise."
The Oklahoma Council of Public Affairs has taken a leading role in exposing what some of the DEI money is being spent on, including using public records requests to determine that the University of Oklahoma paid $29,000 for two drag queen performances this year.
Among other DEI expenditures highlighted by OCPA:
East Central University reported hiring the Oklahoma Center for Community and Justice to provide trainings to campus leaders. A July 22, 2021, post on the OCCJ website defended the use of Critical Race Theory in education, stating that Critical Race Theory "provides a lens through which we can recognize that the United States has a long history of white supremacy and policies that benefit white people above all others."

Murray State College reported spending money on books about "Erasing Institutional Bias" and similar topics, along with rainbow pins for faculty and staff who choose to wear them.

Northeastern State University reported funding a "Feminists and Social Activism" course, and another course "related to diversity and ethics within law enforcement, courts, and corrections" in which emphasis was "placed on police, prosecutors, defense attorneys, judges, probation and parole officers, and correctional officers."

Oklahoma City Community College reported spending funds on a workshop to review terminology "used to define sexuality and sexual orientation to better navigate conversations," as well as a training course on ʺBias Based Policingʺ to "teach officers prevention strategies for bias in police work." OCCC also had a "Which Lives Matter" training.
Shapiro, in his interview with The College Fix, noted that DEI programs run contrary to the main aims of an institution of higher education.
"Recently we've seen the bureaucratization of higher education. The number of non-teaching staff outnumber teaching faculty on campus, and even in some places, outnumber the students," he said.
"Most of that growth has been in the DEI space. It's by far the fastest area of growth in university administration. It's led to a lack of control by the faculty," he said.
"This is not the decade-old complaints of liberal takeover in the faculty lounge, it is management by people who aren't committed to academic freedom and open theory."
MORE: Ohio State University doubled DEI staff in five years, payroll costs almost tripled
IMAGE: YouTube screenshot
Like The College Fix on Facebook / Follow us on Twitter