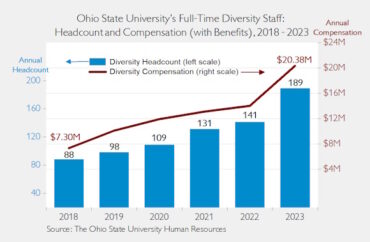 Public institution spends $20.38 million per year on DEI salaries — enough to fund 1,586 students' annual tuition
Ohio State University has more than doubled its diversity staff in just five years, hiring more than 100 new DEI-related employees between 2018 and 2023, swelling the headcount from 88 to 189, a College Fix analysis found.
In 2018, Ohio State employed 88 diversity-related staffers at a cost of $7.3 million annually, according to research conducted at the time.
Today, Ohio State employs 189 diversity-related staffers costing Buckeye taxpayers $20.38 million per year, The Fix analysis found. The totals include OSU's fringe benefits.
With that growth, the cost to fund OSU's DEI staffers nearly tripled in the last five years, reflecting an increase of $13 million since 2018.
The $20.38 million is just the payroll expense. It does not include many other types of spending for DEI staff that could easily add several million dollars more in additional costs associated with 189 full-time DEI staffers, including expenses for travel, attending and hosting conferences, computers, phones, printing, campus events, speaker fees, office space, training materials, advertising, recruiting, and donor and sponsor solicitations.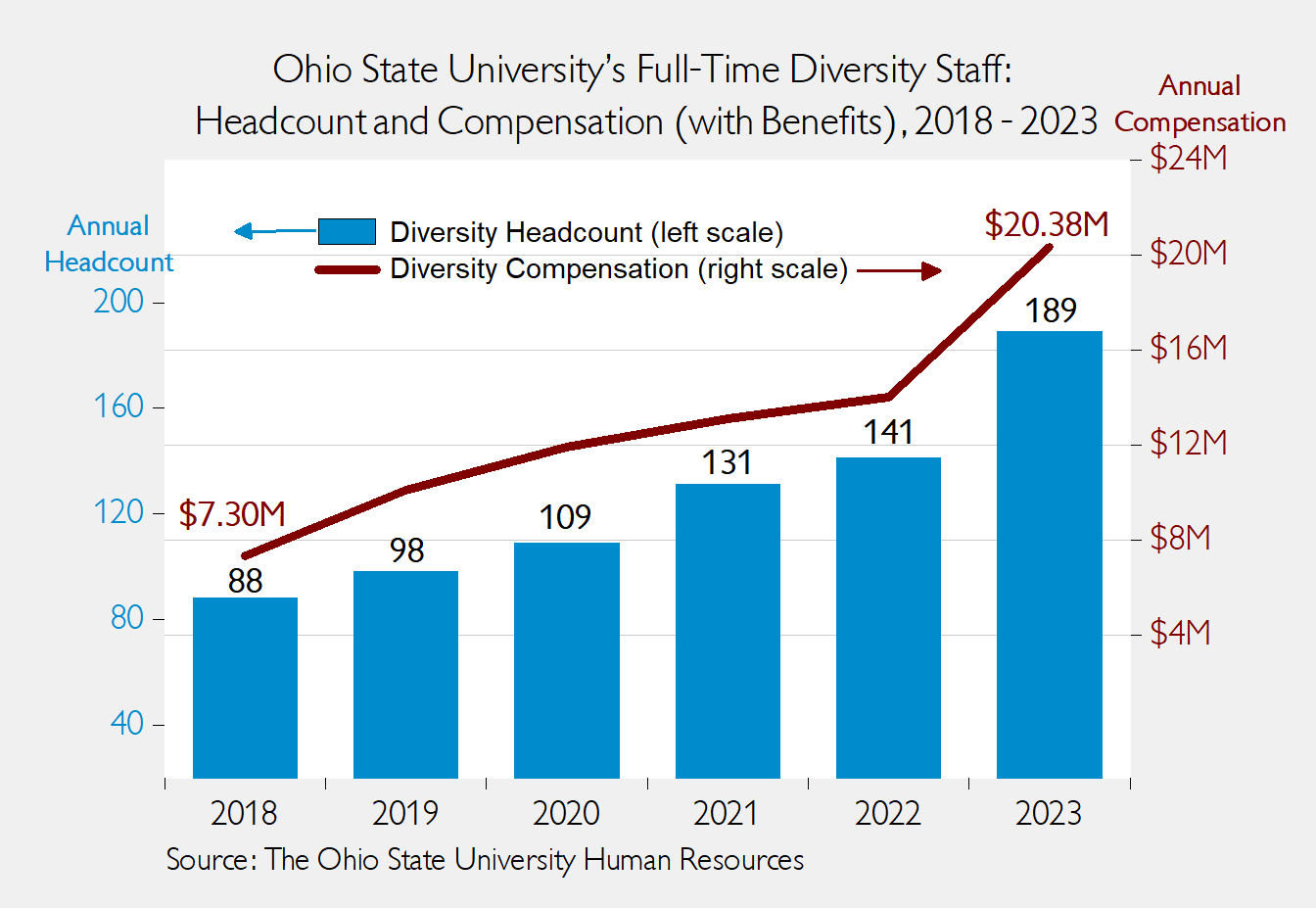 Asked to weigh in on the analysis, Assistant Vice President of Media and Public Relations Benjamin Johnson called the findings "inaccurate."
He said via email to The College Fix that "many employees have the words diversity, equity and/or inclusion in their job title but do unrelated work. For example, the Office of Institutional Equity includes staff that investigate reports of sexual misconduct, process ADA accommodations, and promote the safety of minor children attending activities on our campus."
However, OSU's Office of Institutional Equity website states part of its core function is to prevent and respond to discrimination, "celebrate" diversity, advance "employment equity efforts," and maintain an affirmative action program.
It adds the office's duties and activities align with Ohio State's Shared Values Initiative, which states as part of its mission that "diversity and inclusion are essential components of our excellence."
In an interview with The College Fix, state Sen. Jerry Cirino said the amount Ohio State University is spending on DEI is over the top.
"Whatever the absolute numbers are, they're big, and in the last five years it has grown significantly," Cirino said.
Cirino, a Republican, said he hopes his S.B. 83 will help reduce that spending. The bill, currently working its way through the Ohio Statehouse, would outlaw any mandatory DEI trainings or litmus tests for students, employees and applicants, among other higher education reforms.
Cirino called Ohio State University's DEI spending "a huge number," but added "I expect that to change when S.B. 83 passes."
This year, the school raised tuition by 3 percent. In 2022, it raised tuition by 4.6 percent. In 2019, OSU raised tuition by 3.3 percent. In 2017, it raised tuition by 5.5 percent. Housing and meal plan costs have also been hiked over the same time span.
Meanwhile, at least seven DEI administrators make more than $200,000 per year, up from 5 last year, and another 33 staffers earn more than $100,000, up from 28 last year.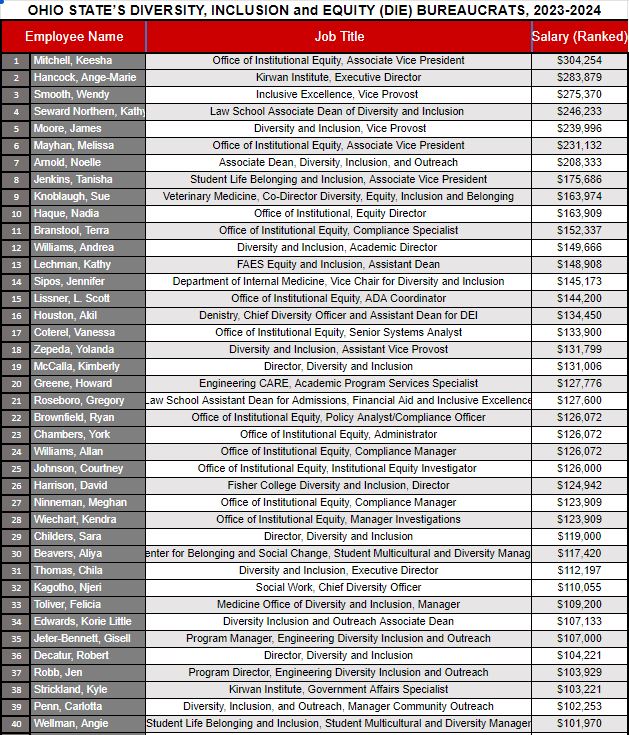 (Click here to see the full chart)
In-state tuition this year at OSU is $12,859; the $20.38 million spent compensating 189 DEI staffers could pay one year's tuition for 1,586 young Ohioans.
Even as OSU spends on an increasing number of DEI staffers, the undergraduate student population has not matched that exponential growth.
Ohio State University's student population was 42,003 during the 2017-18 school year and was 43,057 during the 2021-22 school year, a 2.5 percent increase, according to data filed with the federal Integrated Postsecondary Education Data System.
What's more, the number of teaching and instructional positions per 1,000 students during the last five years decreased, from 57 educators per 1,000 students during the 2017-18 school year to 55 educators per 1,000 students during the 2021-22 school year, IPEDS data show.
The average salary for a diversity-related staffer is about $80,000; with fringe benefits that equals $108,852 in total compensation apiece.
In the main Office of Diversity and Inclusion, there are 59 diversity-related staffers, and in the Office of Institutional Equity, there are 31. The Office of Student Life has 12.
DEI staffers who do not work in these centralized offices work in OSU's various schools, colleges and departments.
The College of Engineering's Diversity, Inclusion, and Outreach Office now maintains a roster of 12 employees, up from 8 last year. It's also been rebranded as the Community, Access, Retention and Empowerment Office, or CARE.
The College of Dentistry has a chief diversity officer as well as an assistant dean for diversity, equity, and inclusion at a salary of $134,450. Veterinary Medicine has a co-director of diversity, equity, inclusion, and belonging at a salary of $163,974.
The School of Education and Human Ecology has 13 full-time DEI staffers, the College of Pharmacy has five, the law school has four.
Editor's note: Economist Mark Perry contributed to this report and its graphics. Perry is a paid consultant for The College Fix.
MORE: At Harvard, there are 2,600 more administrators than undergrads
Like The College Fix on Facebook / Follow us on Twitter