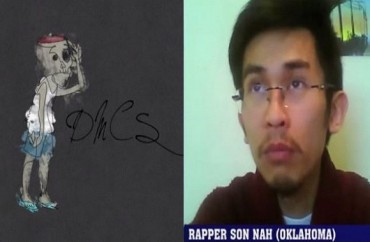 Artist set to perform at International Students for Liberty conference: His 'anti-communist rap has captured the imagination of thousands of young Vietnamese who are all too familiar with the horrors of totalitarianism'
Nothing is stronger than an idea whose time has come.
Victor Hugo, the French poet and political firebrand, was no doubt talking about the turmoil in his native France when he uttered these words.
And now, more than 130 years after Hugo's death, one Vietnamese-born college student studying in the United States wants to emulate the French polemicist by using a viral rap song targeting Vietnam's Communist Party to galvanize millions of his countrymen into revolt.
And it appears to be working.
Indeed, one of Vietnam' most subversive rap songs at the moment, titled "F*ck Communism" (asterisk added) takes aim at the bloated bureaucrats, "embezzlers," violent gendarmes, and "professional thieves" that dot the Communist Party landscape in the Southeast Asian country.
The song's titular creator, Nah, a controversial Vietnamese hardcore hip hop MC and senior studying entrepreneurship at Oklahoma State University, is using the song's title and lyrics, as well as social media, to add a spark to the budding so-called "Zombie movement" against Vietnam's corrupt politicians.
Here are a few of the song's most explosive lyrics – lyrics that could earn Nah a 20-year prison sentence in his hometown of Ho Chi Minh City for creating "propaganda against the state."
"It's wrong to dare and change the country? F*ck communism."
"I'll never accept being a slave. F*ck communism."
"You dare to sell our father's land. F*ck communism."
"You will be overthrown soon. F*ck communism."
The song is growing massively popular on the Internet, thanks in large part to YouTube and Facebook. Since its release in January, the track has racked up more than 950,000 views on the video sharing platform — and in a country with fewer than 40 million internet users, that's a monster hit song.
And with his viral hit heating up the circuits, Nah hopes to further stoke the embers of a budding movement. The song is becoming an anthem for Vietnamese youth — a generation that is all too familiar with the widespread corruption and propaganda permeating the country's ruling communist party.
Vietnam is corrupt. It is ranked 119th out of 175 on Transparency International's scale of most corrupt countries. That's a score worse than Ebola-plagued Sierra Leone and fellow communist neighbor China. Worse still, it's also one of the least economically free countries in the world. It is ranked 148th freest countries out of 186 countries in the world according to the Heritage Foundation's 2015 Index of Economic Freedom.
The add-mixture of corruption and authoritarianism makes Vietnam a perfect breading ground for revolutionary thought.
The 24-year-old Nah is stepping into feed the embers of a revolt. He wants his revolution-stoking ditty to become a rallying cry for a new, Southeast Asian-style Arab Spring, a similar youth-generated movement which ushered in countless revolutions across the Mideast during the fall of 2011.
The movement's mission, Nah says, is to shake Vietnam's youngsters from their doldrums, and convince them that they're "zombies" manipulated by the state. "The song was just a kick-start to get this whole movement going," Nah told the Global Post earlier this month.
Too many Vietnamese youth "don't care about social issues," Nah told the Global Post. "They just spend their time gossiping and being materialistic."
The song, which is replete with violent imagery targeted directly at the communist state, warns that his generation's cavalier attitude toward state-sponsored plundering and graft will only prolong the Communist Party's 40-year reign.
Up until the release of "F*ck Communism," the "Zombie movement" was relatively small and relegated to small corners of the Internet. But now, thanks to Nah's creation, the movement is generating renewed courage among activists.
Nguyễn Thanh Phước, Nah's friend and fellow MC, for one, was arrested by police on July 11 of this year in Saigon during a public forum where members of the "Zombie movement" congregated. Since May, the movement has grown in fits and waves, with several members becoming victims of attacks by police officers or unknown individuals.
Nah also penned a manifesto to supplement "F*ck Communism." Among other things, it warns the communist heads of state in Vietnam to ready themselves for a fight. It also strikes a Thomas Jeffersonian-like flavor, urging freedom-fighting compatriots to join the cause to "reclaim our freedom of speech, freedom of the press, and the right to control our own country," despite the tyrannical rule of the Communist Party.
An ideal form of political system in Vietnam, Nah told The College Fix earlier this week, is one where government keeps its hands off the citizenry and allows people to live their lives without being hassled for saying something that puts the country's politicians in a bad light.
"I want to create a government that divides the country into at least (three) states: the northern state, the middle, and the southern," Nah told The College Fix in an email.
Vietnam's New Order definitely needs to "give more power to the states than the federal government," Nah, a self-ascribed economic and civil libertarian, told The College Fix. In short, he added, get the government out of the business of running people's lives.
Nah is scheduled to perform at the 2016 International Students For Liberty Conference in February.
"It takes unbelievable bravery to stand up to a corrupt government, and Nah has proven to be one of the bravest freedom fighters alive today," Casey Given, the director of communications at Students for Liberty, told The College Fix. "His anti-communist rap has captured the imagination of thousands of young Vietnamese who are all too familiar with the horrors of totalitarianism."
Like The College Fix on Facebook / Follow us on Twitter
Like The College Fix on Facebook / Follow us on Twitter