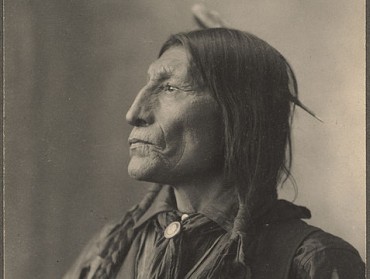 A large sign that read "Send 'Em Home" along with the prominent hashtags #Trail_of_Tears and #GOPOKES has been decried as racist hate speech on social media by some, with others just calling it not well thought out and insensitive.
Florida State's Seminoles play OSU's cowboys today.
The sign, held aloft by seven fans who appear to be students, with dozens of others standing in the background, was seen during ESPN's College GameDay show and "took place on the Cherokee National Holiday where tribal members celebrate the signing of their constitution and commemorate the 175th anniversary of the Trail of Tears, the forced march from the Southeast to Oklahoma that killed thousands of Native Americans," reports Oklahoma's News on 6. 
Comments on social media are overwhelming negative, such as:
"only racist white people would make a hashtag out of #trail_of_tears"

First time in 29 years I have been embarrassed to be an @okstate fan. It includes living through "Poke Choke" many times #trail_of_tears

Hey dummies! OSU! You're in Indian Territory! Poor and shameful sign! Get a clue!  #trail_of_tears
Comments under some news stories on the subject have different takes, however:
All they meant was send Florida State home crying. Geez…

It's a game for crying out loud!! It's SUPPOSED to be an intimidating sign! I guess it worked! Somebody WHINED.

It's amazing in our free country (how) much we have to watch what we say!!

So if somebody plays Notre Dame, and the game happened to be a day after Saturday, it's okay to have a banner saying its going to be a "Bloody Sunday"? Hey, maybe when Holy Cross or St. Johns plays Penn State, they could say they're going to throw the Christians to the Lions!
Meanwhile, the university's Twitter feed – which initially retweeted the image before deleting it – has disavowed the sign, saying: "OSU does not condone the insensitive sign shown at today's GameDay event and have requested that it be removed."
And Cherokee Nation Principal Chief Bill John Baker told News On 6 "OSU will do their best to explain to students 'how hurtful' the sign is in light of the tribe's heritage and history."
Like The College Fix on Facebook / Follow us on Twitter