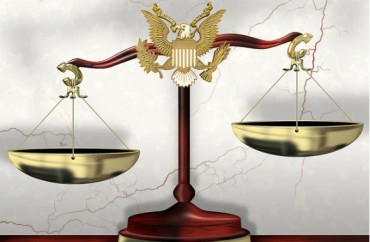 One of the biggest complaints about higher education today is the overwhelming liberal-to-conservative professor ratio, which depending on what study is cited has it at anywhere from 12-to-1 to 30-to-1.
A possible solution to this problem may be to put ombudsmen or some sort of other outside influences, such as trustees, on faculty hiring committees to ensure all applicants — even right-of-center ones — get a fair shake.
The notion has been broached at least twice in recent months by center-right academics looking for solutions to the liberal bias that has taken over higher education.
Portland State University Professor Bruce Gilley listed the idea as one of several suggestions he recently proffered as a way to take back "power in the academy."
"The simple enforcement of existing employment law would constitute progress," Gilley wrote in First Things.
"It is illegal in most countries to hire on the basis of gender, race, or religion, among other categories. Yet we know it happens all the time. The solution may be for hiring and promotion to cease to be the exclusive prerogative of the faculty: Alumni, boards of trustees, community partners, and grant agencies could have a role as well," he stated.
"In religious universities that have succumbed to political correctness, clerical control should be reasserted. Hiring and promotion committees should be forbidden to ask applicants about their commitments to diversity, social justice, sustainability, equality and inclusion, or other political or ideological issues. An employment ombudsman might guard against what is, in effect, the political blackballing of candidates."
Gilley declined to comment further to The College Fix.
Meanwhile, at an academic conference in Raleigh, North Carolina, in December, the subject was broached during a panel discussion at an event hosted by the National Association of Scholars and the James G. Martin Center for Academic Renewal, both center-right scholarly nonprofits.
Panel member Jonathan Jordan, former North Carolina state representative, said he does not think the idea would negatively impact academic freedom.
"What have you got right now is the same group, they all think the same anyways, so how can you possibly make that worse? Putting in new ideas, bringing in new people, some other way to get them hired has got to improve the situation," Jordan said. "I don't see how it could get worse."
Panelist Mike Adams, a criminology professor at UNC Wilmington and a Christian conservative, said he is not sure how the idea would work. He said when he was hired at UNC Wilmington he was a political leftist and atheist. In his past experience on hiring committees, he said there was talk that sort of blackballed certain candidates.
"They just said things in hiring meetings, like 'Oh we can't hire this person because they went to a Catholic university,' 'Oh, that person went to West Point, therefore they're too conservative.' They just used to say things in front of me like that when I was a member of 'the club,'" Adams said.
"I converted later on, then things got tremendously interesting because … I just decided to start publishing their remarks — attached to their names. What do you think the effect of that was? They stopped saying the things."
Today, he said, professors spend time looking through the vitae, "and going through the process of having dinner with them and interacting — they know fully what their political and religious views are as well," Adams said. "What's really changed is they use code words essentially in actual department meetings where we're making those [hiring] decisions, so that's very difficult to deal with, the hiring process aspect."
Panelist and UNC Board of Governors member Steve Long criticized the lack of viewpoint diversity in UNC system schools, noting "I think that viewpoint diversity is a big problem in the university…It's very frustrating to me on how to fix it, but I've come to the conclusion that it's a structural problem."
He said the idea of outside influences on the hiring process may or may not work, but "I think the university is at its best when it interacts with society."
"I think we need to find some way, it may be through the board of trustees, advisory boards, whatever — but we need to bring some interaction with the real world to our universities," Long said, "because the statement of academic freedom says that the university is for the common good — it's not for the faculty. That's the important thing that we should consider."
Asked to weigh in, Jenna Robinson, president of the Martin Center, said universities could perhaps further involve trustees in the hiring process.
"Trustees do have to approve hires, and I think this is a good practice. Of course, they are usually just a rubber stamp. Perhaps they should take their roles in hiring more seriously. University presidents also have a role. They can block hires," she said via email.
Robinson said hiring campus ombudsmen may be one possible solution to political bias.
"I'd love to see some colleges and universities experiment with this. Then maybe we can find out what works best. But right now I'm not ready to make a recommendation. I don't know what would be best," she said.
Robinson added that government should not have a hand in hiring.
"Faculty hiring should be a meritocracy first and foremost," she said.
Also asked to weigh in on the idea, Heather Mac Donald, a Manhattan Institute fellow who gave the keynote speech at the conference, agreed hiring committees are biased, but said the solutions should come from within.
"The only real solution is to persuade people that scholarship should be as politically neutral as possible and that the West is not the source of the world's evils," Mac Donald said. "Education should be about passing on our civilizational inheritance to the young, with joy and gratitude. That case must be made over and over again."
MORE: Top 40 universities refuse to address survey showing campuses dominated by Democrat professors
IMAGE: Donkey Hotey
Like The College Fix on Facebook / Follow us on Twitter