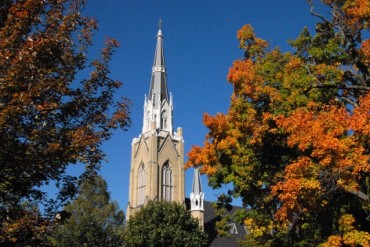 The University of Notre Dame will mark the annual "National Coming Out Day" observance today with lectures on the sociology of coming out as well as makeshift doorframes set up around campus meant to encourage students to "come out" as whatever they want to come out as.
Now in its 25th year, National Coming Out Day, marked on Oct. 11, aims to encourage lesbian, gay, bisexual or transgender people to "come out" – or tell others about their sexual preferences for the first time.
At Notre Dame – a private, Catholic university that launched a pro-homosexual pastoral care plan this semester – the observance will take shape in part through the doorframe exhibits.
"To commemorate the event, the (Gender Relations Center) will be co-sponsoring a 'Coming Out of the Closet' event with PrismND, setting up makeshift doorframes around campus and inviting individuals to 'come out' as anything – a business major, a country music fan, a lover of bad horror movies," the Notre Dame website states. "Join us … as we celebrate the endless variety of identities that make each and every one of us unique."
"The Gender Relations Center promotes moral formation consistent with Catholic identity, mission and values," the website adds.
In addition to the closet campaign, lectures on 'the sociology of coming out' are slated to take place on campus today. They're sponsored by PrismND, a group founded this year and billed as "Notre Dame's first official student organization dedicated to serving the LGBTQ and ally community on campus."
Several Notre Dame administrators were sent emails Thursday afternoon by The College Fix seeking comment. Campus officials did not respond.
However John Ritchie, director of TFP Student Action, a conservative student Catholic advocacy group, said no Catholic university should mark coming out day.
"The national coming out day is a propaganda tool designed by the homosexual movement," he said in an email Thursday to The College Fix. "It attempts to normalize sinful behavior that violates the law of God, natural law and God's orderly plan for mankind. There's absolutely no reason why any Catholic university should participate in this event, which only serves to undermine the moral teaching of the Catholic Church."
"More than ever, college students need to hear about the benefits of practicing the forgotten virtue of chastity," he added. "But you rarely hear about virtue anymore, even on many Catholic campuses. … Maybe the University of Notre Dame will take notice and start a national day for purity, instead of fostering a day that promotes the homosexual agenda."
National Coming Out Day observances at Notre Dame have reportedly occurred before, but this year's event comes on the heels of the recent hiring of a fulltime employee to implement the university's relatively new pastoral initiative titled "Beloved Friends and Allies: A Pastoral Plan for the Support and Holistic Development of GLBTQ and Heterosexual Students at the University of Notre Dame."
The employee is tasked with organizing "speakers, conferences, retreats, support groups, and other programs all designed for the support, holistic development, and formation of GLBTQ and other members of the Notre Dame community," the plan states.
Today's observances on campus also take place as controversy continues to swirl over comments Pope Francis recently made in an interview in which he said the Catholic Church should focus more on loving their neighbors and less on hot-button issues.
Jennifer Kabbany is associate editor of The College Fix.
CLICK HERE to Like The College Fix on Facebook / TWITTER: @CollegeFix
IMAGE: NDomer73/Flickr