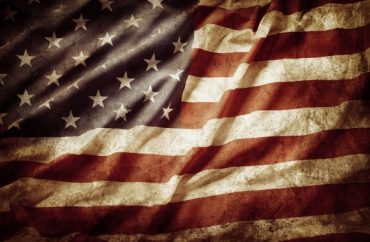 Only 12 percent of Democrats age 18 to 34 are "extremely proud" to be American, according to a recent Gallup poll.
In contrast, 42 percent of Republicans in the same age range said they are extremely proud of their country, the survey found.
Asked to weigh in on the results, Professor Daniel Bennett, chair of the Department of Political Science at John Brown University, said today's sharp political divide may play a roll.
"My read is partisan cues are playing a big role here, especially in the Trump era. 'Make America Great Again' and the subculture around it emphasizes pride in American identity, respect for the flag, etc.," he told The College Fix via email.
"For Democrats, there may be a concern that emphasizing pride in one's American-ness align them too close with the MAGA crowd. Also, historically Democrats have been less willing to express pride in America than Republicans, probably because of a focus on the negatives in the country's history (especially on race and foreign policy)."
"I think it's actually more interesting," Bennett added, "that it's just 42 percent of young Republicans who are proud to be Americans – that seems low to me. Then again, it could be a young person/disillusionment thing."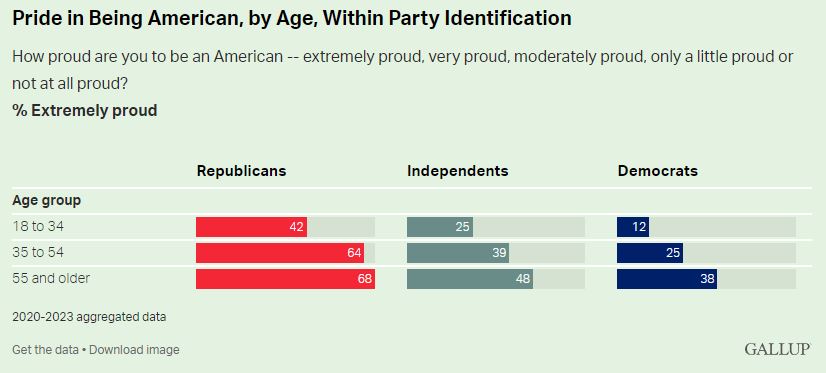 The results are based on telephone interviews conducted June 1 through June 22 of a random sample of 1,013 adults.
Gallup has asked this question for over 20 years, and the overall results year over year show a decrease in patriotism among all age groups and across the political spectrum.
Gallup reported that when it first asked the question in January 2001, 55 percent of adults were extremely proud to be American, and "pride soon intensified after 9/11, with extreme pride ranging from 65 percent to 70 percent between 2002 and 2004."
"The percentage of Americans expressing extreme pride declined in 2005 and in subsequent years, but it remained at the majority level through 2017. Since 2018, extreme pride has consistently been below that, averaging 42%."
But Gallup pointed out young adults in all political parties are significantly less proud than their older counterparts.
"While Republican party identification may be associated with greater national pride, the fact that Republicans tend to be older than Democrats and independents also contributes to the party differences," Gallup reported.
Leena Yumeen, co-chair of the Young Democratic Socialists of America, did not respond to The College Fix's requests for comment about how young Democrats feel about patriotism and America.
In addition to the recent Gallup poll results, the Institute for Global Innovation and Growth recently released its annual "American College Student Freedom, Progress and Flourishing Survey."
Conducted May 11 through June 2 through the online polling company College Pulse, the survey questioned 2,250 undergrads enrolled at 131 different four-year colleges and universities from across the nation.
Among its findings, only 17 percent of students said they are very proud to be American and another 37 percent are somewhat proud to be American. Conversely, 31 percent said they are not too proud and 14 percent are not at all proud to be American.
"These percentages vary widely by students with different political views," the institute reported.
"Only 9 percent and 33 percent of liberal students say they are very proud and somewhat proud to be American, respectively. By comparison, 37 percent and 40 percent of conservative students say they are very proud and somewhat proud to be American, respectively."
The poll also found that 43 percent of college students said they are pessimistic about the future of America.
MORE: 74 percent of college students would report professors for saying something offensive: survey
IMAGE: Shutterstock
Like The College Fix on Facebook / Follow us on Twitter