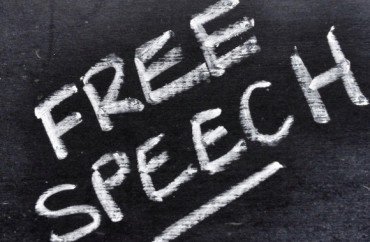 The hunters have become the hunted.
OK, maybe that's a bit extreme, but blame it on excitement over the news that University of Oregon's infamous bias response team will soon be probed by a faculty task force to determine how it negatively impacts academic freedom and free speech.
"The faculty needs to regain oversight of what the administration is doing here," faculty senate president Bill Harbaugh told the Daily Emerald campus newspaper. "It's important for administrators to discuss things that could be reported, and make sure that we don't leave them with responsibility for determining policy on what is taught in class."
The faculty task force was formed as more and more professors voice concern over the bias response team, "saying they feel policed by the administration," the Emerald reports, adding the effort will begin in earnest this fall.
Remember, the university's bias response team would often have intimidating "educational conversations" with those who offended others over such benign things as a sign encouraging cleaning up after oneself or the campus newspaper giving less coverage to trans-students.
MORE: BRT investigates newspaper for giving 'less coverage' to transgender people
Recently the team's efforts made national headlines, with concerns over free speech and academic freedom. Even University of Oregon professors chimed in, including Professor Kyu Ho Youm, a naturalized U.S. citizen and currently the Jonathan Marshall First Amendment Chair for its School of Journalism and Communication, who criticized and called for scrutiny on the team.
The professor stated "the headline-grabbing attention has been highly critical, given the BRT's overreaching responses to a number of frivolous complaints."
Now the bias team will get the scrutiny it deserves.
Harbaugh, University of Oregon's Senate President, recently forwarded an email to Campus Reform describing the new task force to be chaired by professors that will probe the bias response team with an eye toward reform:
"National coverage of UO's Bias Response Team (BRT) and similar efforts aimed at reducing campus bias have raised some concerns regarding the potential for negative effects on free and open classroom discussions. … This task force is to assess the material and perceived impact of the BRT on faculty, student, and staff interactions, with a focus on the impact of the BRT on academic matters. Based on the findings of this research and input from the Senate and the University community, the task force will work with the UO administration to ensure that the BRT functions so as to encourage both academic freedom and inclusivity."
Effecting change will take some fortitude against politically correct forces, but at least the important conversation has begun.
MORE: UO prof 'physically abused' over anti-government views fights BRT
Like The College Fix on Facebook / Follow us on Twitter