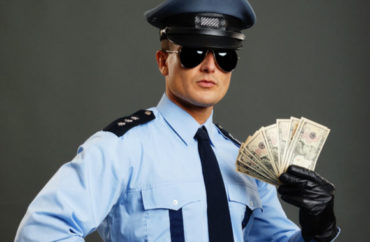 Students at various Portland, Oregon schools ditched classes on Wednesday to protest the presence of school resource officers in their buildings.
Jefferson High School senior Sophia Lucas spoke for her peers assembled in front of Portland City Hall proclaiming SROs "do not have a place in our schools [… they] make students feel unsafe, contribute to discrimination in school and their presence can lead to hostile and unsafe school environments."
The Portland Tribune reports that last month in a "highly emotional" meeting, the Portland Public School Board voted to enter into a cost-sharing agreement with the Portland Police Bureau for full-time nine SROs in city schools. The decision greatly upset Jefferson High students, including class co-president Sarah Steele who said "the decision obliterated her faith that the school board took students seriously."
The only board member to vote against the deal — (African-American) Board Vice Chair Julie Esparza Brown — agreed with Ms. Lucas's assessment of SROs, noting "students of color and those with disabilities disproportionately targeted by police."
"For many of us, there's fear when we see uniforms and police," Brown said. "I just want to acknowledge that."
According to KATU-2, the district hasn't paid for SROs in 20 years.
"Stationing police officers in schools will further contribute to an environment of fear and distrust," Lucas said.

The speech was a collaborative effort. "We were working on it up until 1 o'clock in the morning last night, um, you know, there were probably like six or seven students all working and editing," Amelia Ernst, a senior at Grant High School, said.

In an effort to spread awareness of their campaign, the students also created the YouTube account called "No SROs PDX" and just Wednesday morning, they published a new video.

In it, one student says, "I feel like it's taking away funding from things that could actually increase a safe environment, like psychologists and therapists."
Despite news coverage of students' discontent, student meetings regarding SROs leading up to the school board vote "were not well attended," and the walkout protest drew a paltry 18 participants from six different schools.
MORE: Cop at school makes students feel 'significantly safer, less stressed'
MORE: 'White genocide' prof wants SRO 'done like Old Yeller'
IMAGE: Peter Lang / Shutterstock.com
Like The College Fix on Facebook / Follow us on Twitter