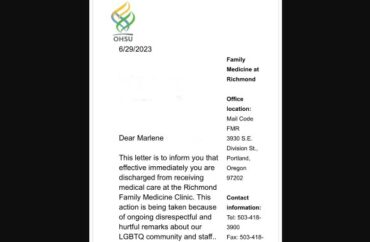 'Now I have no primary care doctor and [nowhere] else to go,' patient said
A Oregon Health and Science University medical clinic dropped a patient following her criticism of its transgender pride flag display.
Marlene Barbera, a patient with cancer who saw her general practitioner at OHSU's Richmond Family Medicine Clinic, "had commented on a trans pride flag she had seen in the waiting room of the [clinic] in Portland, Oregon," Reduxx reported Wednesday.
Barbera had sent a message through MyChart, a health portal that allows patients to see records and correspond with their doctors. Barbera thought her message through the app would only go to her physicians, but she was told later other staff had seen her comments.
Several weeks later, Barbera received a message from OHSU Practice Manager Stein Berger dated June 29, according to screenshots obtained by Reduxx.
"Richmond is an all-inclusive clinic and we value and advocate for diversity," Berger wrote.
He stated Barbera had made "transphobic remarks…harmful to our staff."
"Effective immediately, you [Barbera] are discharged from receiving medical care at the Richmond Family Medicine Clinic," Berger wrote. "This action is being taken because of ongoing disrespectful and hurtful remarks about our LGBTQ community and staff … Please note that you are also now dismissed from all OHSU Family Medicine clinics, including Immediate Care clinics."
The allegations were published Wednesday by Twitter account LibsOfTikTok.
A woman receiving cancer treatment at @OHSUNews was told she can no longer be a patient at the clinic after she sent a message criticizing a trans flag hanging prominently at the entrance.

She told us that they requested she go for "re-education" and she refused. pic.twitter.com/WdAvRoYoMV

— Libs of TikTok (@libsoftiktok) August 2, 2023
The College Fix reached out to the Oregon Health and Science University media relations department to ask for comment and an update on Barbera's status.
"In accordance with patient privacy laws, we're unable to comment or acknowledge whether an individual is a patient without written authorization from the individual," Associate Director of Media Relations Sara Hottman responded in a Friday email.
She also cited "OHSU patient rights, responsibilities, and safety," which include "refrain[ing] from using discriminatory, profane, derogatory or threatening language, imagery or behavior, and understand[ing] that these behaviors can result in limitation of visiting privileges and impact access to care at OHSU."
The notice Barber areceived also stated that the clinic would terminate all services to her on July 29.
"I have been threatened on Twitter by trans activists with rape and death — so it is daunting to go for medical treatment with that banner proclaiming that what I am, an adult human female, is a mere opt-in category for any gender non-conforming male and not a reality," Barbera wrote in her message, according to Reduxx.
"May I please have a telephone appointment to discuss how I may access your medical care without walking under a banner that seeks to negate all I am?" she continued in the message.
"The issue escalated" when a receptionist refused to let Barbera leave another private message for her doctor, regarding blood test results.
Barbera told Reduxx this week that she has chronic health problems that now go untreated.
"I have severe chronic agitated depression since teen years," Barbera told Reduxx. "Now I have no primary care doctor and no where [sic] else to go. I have been made to feel like a worthless nothing."
MORE: Harvard disinvites feminist philosopher for opposing transgender ideology
IMAGE: LibsOfTikTok/Twitter
Like The College Fix on Facebook / Follow us on Twitter