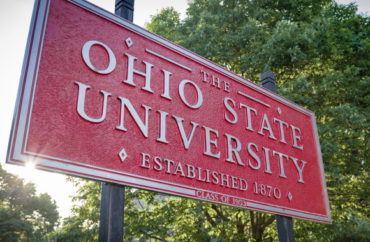 Recently introduced legislation in Ohio seeks to ban ideological hiring practices
Scholars seeking a job in Ohio State University's College of Engineering must pledge their allegiance to diversity, equity and inclusion as part of the process.
University officials ask applicants to provide a statement that describes their commitment to diversity, equity, and inclusion, along with "specific examples such as teaching and/or mentoring students from underrepresented backgrounds, outreach activities to underrepresented groups, or conducting research that address social inequities," according to a copy of the application rubric recently tweeted by John Sailer with the National Association of Scholars.
The hiring parameters were shown through current open positions within OSU's College of Engineering, which includes a tenure-track faculty position in the Mechanical and Aerospace Engineering Department as well as a tenure-track faculty position as an assistant professor in the Knowlton School of Architecture and Administration.
These positions are hiring for OSU's nuclear engineering programs and its urban design Race, Inclusion, and Social Equity, or RAISE, initiative, respectively.
The application also states scholars are expected to participate in and support DEI efforts, which has drawn concern from liberty advocates and state lawmakers.
Ohio state Sen. Jerry Cirino, a Republican, introduced Senate Bill 83 on March 14 that seeks to prohibit political and ideological litmus tests in all hiring at public universities, among other measures.
"This is not a political issue for me. This is not conservative or liberal," Cirino told the Columbus Dispatch. "This is making sure students are exposed to different theories."
Sailer, in his tweet thread, included pictures of DEI interview questions and rubrics given to search committee chairs for the College of Engineering.
Some example questions ask candidates to share demonstrated or committed acts toward increasing awareness of DEI, what each term of DEI means to the candidate, and what DEI initiatives the candidate has been involved in.
Many of the questions ask about mitigating biases and how the candidate would advocate DEI "with colleagues who don't understand its importance."
The document includes rubrics for search committees to score candidates. These rubrics score on awareness or understanding of DEI, experience promoting DEI, and plans to advance DEI.
High scores are given to candidates who have a "sophisticated understanding of differences stemming from ethnic, socioeconomic, racial, gender, disability, sexual orientation, and cultural backgrounds and the obstacles people from these backgrounds face in higher education."
Candidates will also score high if they provide many examples of how they have mitigated bias in their careers or share plans to promote DEI within their department, according to the rubric.
The rubric also assigns low scores to those who "vaguely describe the importance of diversity" or are "uncomfortable discussing diversity-related issues." Candidates also will score low if they "merely say they would do what's asked, if hired or speak in broad terms," it states.
Sailer, in his tweet, said these new hiring practices shouldn't be surprising since OSU engineering faculty promised in 2020 to add questions about DEI to their annual reviews.
None of this should be surprising.

For OSU engineering faculty, contributing to DEI is now simply a part of the job—in 2020, the college promised to add questions about DEI to their annual reviews. pic.twitter.com/2zlb2GNRwj

— John Sailer (@JohnDSailer) March 7, 2023
He also mentioned OSU's RAISE Initiative is one of the most progressive hiring programs focused on recruiting faculty with expertise in DEI.
The Foundation for Individual Rights and Expression last year published a statement expressing concerning over embedding DEI mandates in hiring practices and more recently offered model legislation on how to address potential viewpoint discrimination in hiring practices.
"Public universities must respect faculty members' expressive rights when advancing universities' initiatives on DEI," FIRE spokesperson Graham Piro told The College Fix via email.
FIRE's September 2022 letter to OSU raised concerns on the use of DEI statements in faculty applications.
In the letter, FIRE stated that "as a public university bound by the First Amendment, OSU must uphold academic freedom of its faculty and make its hiring decisions in a viewpoint-neutral manner. The university cannot reject or penalize job applicants because of their failure to progress allegiance to a particular political or ideological position."
FIRE reported that the university responded on October 13, 2022 that "it takes its role in protecting free speech and expression seriously and would review our concerns."
Russell Marzette, a clinical assistant professor in OSU's Mechanical and Aerospace Engineering Department, declined to comment to The College Fix on the issue.
Ohio State University's media relations office, the search committee chair of the Mechanical and Aerospace Engineering Department Professor Tunc Aldemir, and the OSU Faculty Senate, did not respond to The College Fix's request for comment.
OSU has yet to release any statements on their use of DEI statements in faculty applications or the impending legislation.
Last month, after Sailer wrote in The Wall Street Journal about Texas Tech University's biology department's DEI hiring requirement, the university ended the mandate.
Lawmakers in states such as Florida, Utah and West Virginia have also filed bills that would ban the use of diversity statements in university hiring and admission policies, the Daily Caller reported.
MORE: Texas Tech yanks DEI job statements following media coverage
IMAGE: University of College / Shutterstock
Like The College Fix on Facebook / Follow us on Twitter