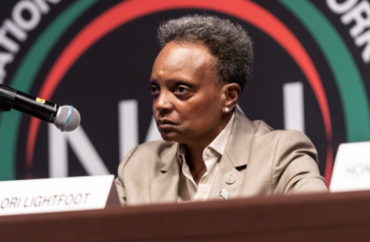 Harvard University has granted a fellowship in public health to former Chicago Mayor Lori Lightfoot, who recently became the first Chicago mayor to lose a re-election bid in 40 years after a controversy-ridden tenure as the Windy City's top boss.
In her role as the Menschel Senior Leadership Fellow, Lightfoot "will teach a course in the fall at the Harvard Chan School of Public Health," the Ivy League institution recently announced.
The June 1 announcement lists several of Lightfoot's achievements as mayor, such as leading the citywide response to the pandemic and creating a "Racial Equity Rapid Response Team."
It does not mention the spike in violent crime in Chicago during her term.
In 2021, Chicago saw the most killings in a quarter-century and an increase of 1,400 shootings compared to 2019, the year Lightfoot, a Democrat, became mayor, NBC reported. Statistics cited in the Washington Post show serious crime in Chicago increased by over 33 percent from 2019 to 2022.
Harvard University did not respond to a request for comment from The College Fix.
Additional scandals plagued the four-year term of Chicago's first black female and first openly gay mayor.
Lightfoot was criticized for "getting a haircut at the height of pandemic lockdowns after telling citizens to remain home, and for placing police officers who declined to receive a COVID-19 vaccine on leave without pay," Fox News reported.
In April, a judge ruled workers in Chicago fired under Lightfoot for not complying with the city's COVID-19 vaccine mandate must get their jobs back, the Epoch Times reported.
"The city also violated the law by not providing unions with information they requested that was relevant to negotiations and by eliminating a testing alternative to vaccination," it reported.
In addition to facing criticism over the historic crime spike under her leadership, Lightfoot also notoriously refused to be interviewed by white journalists.
She was also criticized for the use of vulgar language in reference to Supreme Court Justice Clarence Thomas. Following the overturn of Roe v. Wade in June 2022, Lightfoot commented, "F*** Clarence Thomas" on stage in response to an audience member at a local Pride event.
Asked to weigh in on the fellowship, Harald Uhlig, professor of economics at the University of Chicago, emphasized the difference between a fellowship and a faculty appointment at Harvard.
"Harvard only appoints the best and the brightest" for the latter, he told The Fix in a June 2 email.
Uhlig also referenced the list of past fellows at Harvard T.H. Chan School of Public Health, which includes former politicians such as Bill de Blasio. From 2019 to 2022, six of the nine fellows were Democratic politicians, mostly holding mayoral offices.
"Like with Lori Lightfoot, one wonders: how were they selected? It might be that having failed as a politician, of being of particular political orientation or being a member of some group helps a lot, but I do not know," Uhlig said.
According to its description, the Menschel Senior Leadership Fellows Program is "for those who have recently served in top-level positions in government, multilateral institutions, nonprofit organizations, and journalism to spend time at the School mentoring and teaching students who aspire to similar roles."
The June 1 announcement states Lightfoot will have regular office hours on campus to meet with students, faculty and staff.
"I hope the students at Harvard will indeed interact with her and ask her all the hard questions," said Uhlig, adding it would be a "public service" and a learning opportunity for "future leaders emerging from Harvard."
"I wish Lori Lightfoot only the best. I sincerely hope she will enjoy her time at Harvard and the interaction with the students and the faculty there, in particular when all these questions will indeed be asked," Uhlig said.
On Twitter, Lightfoot praised her new gig.
I've always loved teaching, and the opportunity to get back to it is something I am excited about. Looking forward to sharing the experiences and perceptions I learned governing through one of the most challenging times in American history with the @HarvardChanSPH community! https://t.co/yepEhBn2IO

— Lori Lightfoot (@LoriLightfoot) June 1, 2023
"I've always loved teaching, and the opportunity to get back to it is something I am excited about," she tweeted.
MORE: Third University of Chicago affiliate killed amidst calls to disarm cops
IMAGE: Lev Radin / Shutterstock
Like The College Fix on Facebook / Follow us on Twitter