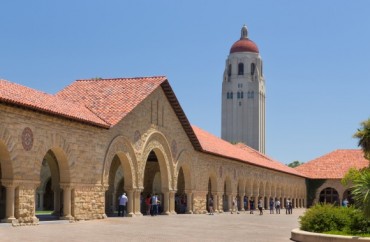 Anger and debate has erupted among Stanford University students after one of their peers, a former student government member and incoming Resident Assistant, posted on his Facebook page that he would "physically fight Zionists on campus."
"I'm gonna physically fight Zionists on campus next year if someone comes at me with their 'Israel is democracy bullshit' :)," student Hamzeh Daoud, a self-described Muslim and third-generation Palestinian refugee, wrote Friday on his Facebook page.
"And after I abolish your ass i'll go ahead and work every day for the rest of my life to abolish your petty ass ethnosupremacist settler-colonial state," continued Daoud's post, which linked to a column published in Haaretz headlined "Jewish nation-state law makes discrimination in Israel constitutional."
The post was screenshot and spread among Stanford students on social media. Saturday evening, the Stanford College Republicans took to their page to publicly condemn the post.
"SCR is disgusted by a threat of violence issued by Hamzeh Daoud, a rising junior at Stanford University, toward pro-Israel students. Daoud, who is active in Stanford Students for Justice in Palestine, a former ASSU Undergraduate Senator … who will be a Residential Assistant in one of Stanford's dormitories in the 2018-2019 school year, vowed on his personal Facebook page to 'physically fight zionists on campus next year.' Threatening to assault other students who hold a different point of view is anathema to a free society and any kind of education, let alone the operation of the premier research university in the world," the group's statement read.
Daoud did not respond to The College Fix's requests for comment Saturday and Sunday, and he changed his profile to private over the weekend as well. Campus spokesman E. J. Miranda did not respond to requests from The College Fix seeking comment Saturday and Sunday, but told the Stanford Daily that administration is aware of the post and Student Affairs is "following up."
Daoud wrote in an email to the Stanford Daily that "I apologize if I made anyone feel unsafe … that was not the intent and will never be an intent of mine at all."
The Stanford College Republican's post, meanwhile, generated plenty of comment and debate, including from those who defend Daoud by pointing out he had quickly changed his Facebook post's wording from "physically fight zionists" to "intellectually fight zionists." The Stanford Daily reports he edited the post about four hours after he published the original.
"Especially as students whose primary goal is to learn, we should not pretend that self-reflection and growth are impossible or irrelevant. … Hamzeh has shown that he is not too proud to admit his mistakes (hence not completely deleting the post, but discussing his edit candidly) nor deluded into thinking the original post wasn't a mistake," wrote one peer, posting a screenshot of the edited version of Daoud's comments.
But others deeply criticized the original post, including one commenter who argued "I believe anyone, especially one holding a position of campus authority like Mr. Daoud should be called out when they make physical threats. If I were a Jewish parent and knew my child was in the dorm under Mr. Daoud's responsibility I would have a hard time trusting that his extreme bias would not undermine his judgment. I believe this post is accurate in calling for disciplinary action, if not expulsion."
In a Facebook interview, Vice President of Stanford College Republicans Philip Eykamp told The College Fix that the remarks made by Daoud are "at minimum a gross lapse in judgment and at maximum a propensity to violence."
Both Stanford College Republicans and Eykamp believe that Daoud's remarks should make him ineligible to be a Resident Assistant, he said.
Daoud rebuffed that by telling the Daily it would be unfair to punish him, a "Muslim, third-generation Palestinian refugee [who] has been constantly called a terrorist by multiple members of SCR."
As for the controversy that started the entire situation, Prime Minister Benjamin Netanyahu has vowed that Israeli democratism will continue to maintain individual and minority rights, Fox News reports.
"But the majority also has rights and the majority decides," he said at a recent event. "The vast majority wants to guarantee the Jewish nature of our country for generations."
MORE: Stanford student paper implies College Republicans are racist
Like The College Fix on Facebook / Follow us on Twitter