Does this advice 'cede the territory that is social media'?
Igniting a verbal grenade on Twitter or wearing a Make America Great Again hat into a campus coffee shop might make you feel good, but is it advancing the cause of conservatism on campus?
With safe spaces, trigger warnings and a heightened sense of political correctness among college-aged youth, many conservatives want to know how to handle disagreements with dignity, especially on social media.
National Review writers David French and Alexandra DeSanctis sought to give them answers at a live recording of their Ordered Liberty podcast on Capitol Hill Thursday.
"To troll or not to troll?" was the driving question of the event. "You don't have to try to trigger – ideas will do it on their own," said French (below), senior fellow at the National Review Institute, former president of the Foundation for Individual Rights in Education and a lawyer specializing in constitutional law.
"Ideas will do a better job of 'owning the libs' than shouting or triggering them," DeSanctis added, using a phrase purportedly popular with young conservatives that means trying to trigger progressives.
The talk drew nearly 100 people at the Rayburn House Office Building, moderating its serious tone with sprinkles of humor. The audience especially enjoyed the banter between middle-aged French and 2016 college graduate DeSanctis, which primarily revolved around their age gap.
The College Fix talked with several Hill interns who attended. They said the event was helpful in teaching young conservatives how to express their point of view with civility, but some had mixed feelings about the thrust of the arguments.
University of Toledo student Kevin Pham said he wondered whether that civility, as presented by French and DeSanctis, would "cede the territory that is social media, where the real food fight happens … where culture gets created."
Ava Sowell, a rising junior at the University of Tampa, agreed with the speakers: "Instead of degrading someone else's argument, its important to make a better one in a civil way and have respect for people as humans regardless of their political opinions."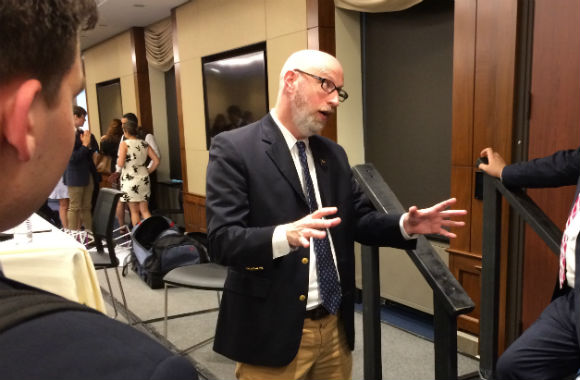 'It was satisfying because it made me feel like I had some guts'
French and DeSanctis had some harsh words for those who like to set fires on social media or even in the conservative media, merely to watch progressives burn.
"So I think there's a lot of people on the right," particularly on campuses dominated by progressive professors and students, who are "sick of being punched at and not being able to punch back, and I think that's understandable," DeSanctis said:
[I]f you're a conservative kid at your average campus, you're just getting punched all the time, and so it makes sense if someone comes along – in the case of Donald Trump and his voters – and sticks his finger in the eye of the guy whose been punching you, yeah, that's pretty satisfying …
But this is not the way to win the war of ideas, they said. "If our aim is to try to get to some substantive change … we have to talk about ideas," DeSanctis said: "The shouting is a substitute for … when people don't have ideas." French contrasted persuasion, which is directed toward others, with "owning the libs," which is about making yourself feel better.
French recalled his time in Harvard Law School in the early 1990s when conservatives would get shouted down and even hissed at in class for sharing conservative beliefs:
I very quickly began to face this temptation … to take a verbal grenade, pull the pin, and just toss it lightly into the crowd and have an immediate explosion of outrage … and part of it was satisfying because it made me feel like I had some guts, some backbone, it was my declaration that I was not afraid of what was happening.
French likened how he felt in law school to how conservatives are feeling today. Some on the right seek to make progressives as mad as possible to prove in a hostile environment that they aren't afraid, he said.
When asked if students should fight fire with fire when it comes to free speech on campus, DeSanctis said it "depends on what your return fire is going to be."
Citing a scenario facing students who invite the conservative pundit to campus, she asked: "If the other side is tearing down posters because they don't want you to host Ben Shapiro on campus, is your response going to be to tear down posters when they host a liberal speaker or is it going to be to have counter programming? That would be fire with better fire."
Juliana Martinez, a sophomore at Dordt College, told The Fix that she thought the podcast "did a good job of covering free speech, especially as pertinent to today's society where there's a lot of angry people trying to shut each other down on the right or on the left."
MORE: Elite college replaced her values 'with angry groupthink,' French says
IMAGES: Krystina Skurk
Like The College Fix on Facebook / Follow us on Twitter