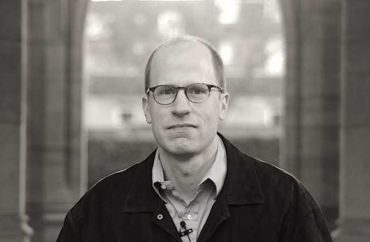 University 'is currently investigating the matter'
An Oxford University philosopher apologized for an email he wrote in 1996 in which he put forth that black people are less intelligent than whites.
"It does not accurately represent my views, then or now," Professor Nick Bostrom stated on his personal website. "The invocation of a racial slur was repulsive. I immediately apologized for writing it at the time, within 24 hours; and I apologize again unreservedly today. I recoil when I read it and reject it utterly."
Bostrom reproduced on his website the original email along with the apology.
"Take for example the following sentence: Blacks are more stupid than whites," Bostrom (pictured) had penned 27 years ago.
"I like that sentence and think it is true," he continued. "But recently I have begun to believe that I won't have much success with most people if I speak like that. They would think that I was a 'racist': that I disliked black people and thought that it is fair if blacks are treated badly."
"I don't. It's just that based on what I have read, I think it is probable that black people have a lower average IQ than mankind in general, and I think that IQ is highly correlated with what we normally mean by 'smart' and 'stupid,'" he continued.
"For most people, however, the sentence seems to be synonymous with: I hate those bloody n*****s!!!! . . . I think it is laudable if you accustom people to the offensiveness of truth, but be prepared that you may suffer some personal damage."
Bostrom used the full "n-word" in the original email, according to The Daily Beast.
Oxford has launched an investigation.
"The University and Faculty of Philosophy is currently investigating the matter but condemns in the strongest terms possible the views this particular academic expressed in his communications," an Oxford University representative told The Daily Beast in a statement. "Neither the content nor language are in line with our strong commitment to diversity and equality."
Bostrom tried to 'get ahead' of the backlash
Bostrom wrote in his apology published to his website that he had heard that someone had been digging through old email archives "with a view towards finding embarrassing materials to disseminate about people."
"The best thing would probably have been for all of those words to have been buried and forgotten," he stated. "But I fear that selected pieces of the most offensive stuff will be extracted, maliciously framed and interpreted, and used in smear campaigns."
"To get ahead of this, I want to clean out my own closet, and get rid of the very worst of the worst."
Bostrom, originally from Sweden, is famous for arguing that humans might be living in a simulation and popularizing the field of "existential risk," according to The Daily Beast.
MORE: Tweet with care, lest your own words undo you
IMAGE: NickBostrom.com
Like The College Fix on Facebook / Follow us on Twitter