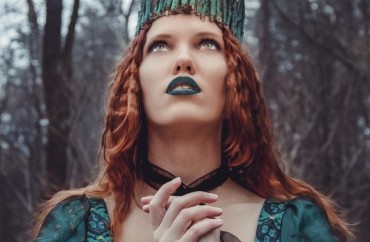 'I hope that our courage will awaken other fellow pagans to do the right thing'
A movement long dominated by conservative Christian voices is making room for young nonreligious and even pagan voices.
Last month's events around the annual March for Life, which marks the anniversary of Roe v. Wade, included activism by young pro-life pagans in Texas and secular opponents of abortion nationwide.
Tarquis Stargift Thomas, a nursing student at Lone Star College-North Harris, became a minor pro-life celebrity when the Texas Young Republican Federation tweeted out her photo at the Texas Rally for Life along with a Catholic group.
#ProLifeGeneration is comprised of all kinds of people! We met Christians & pagans at #txrally4life pic.twitter.com/p7bokrvRhn

— Texas YRs (@TexasYRs) January 23, 2016
The photo of Thomas got picked up by Pro-Life Texas, where Thomas and other pro-life pagans found it. "Science proves we are all created equal in the same matter," she wrote. "Oh Goddess thank you. I hope that our courage will awaken other fellow pagans to do the right thing and see that abortion truly harms women," with the hashtag #prolifemovementinclusive.
Texas Young Republicans tweeted this great photo of Pro-Life Pagans. Love to see the movement becoming inclusive. We need everyone to create a culture of Life!

Posted by Pro-Life Texas on Saturday, January 23, 2016
Her friend Melody Ellen also shared a picture of them at the rally with the Facebook page for Pro-Life Pagans, founded in 2011 to "unify pagans who are pro-life, but feel they are alone," and encourage them to join the broader pro-life movement.
Thomas and Pro-Life Pagans did not respond to interview requests by The College Fix.
Students from religious groups were also amply represented at the Texas Rally for Life.
Group of students participates at #TXRally4Life in Austin: https://t.co/VxjEmoQHSu pic.twitter.com/XOBAvxAWPH

— Frassati Catholic HS (@FrassatiCHS) January 25, 2016
Secular Pro-Life, founded in 2009 by then-University of Virginia law student Kelsey Hazzard, also participated in March for Life activities. Hazzard and others regularly speak on college campuses, including Nicholls State University in Louisiana this week.
Hazzard wrote a piece for Opposing Views around the Roe anniversary arguing that support for abortion rights is often "influenced by beliefs of a fundamentally supernatural character."
Mainstream pro-life organizations are increasingly working with the nontraditional groups.
Students for Life works with 930 colleges and high schools across the country, Kristina Hernandez, director of communications, told The Fix in an email. Currently it's working with Secular Pro-Life and Life Matters Journal, which promotes a "consistent life ethic" and whose leaders are largely recent college graduates.
These partners use nontraditional and non-faith based outreach "to recruit people into the pro-life movement who are oftentimes missed by the more conservative mainstream national pro-life organizations," said Hernandez.
Students for Life has also worked with Democrats for Life "in the past," she said.
'We have to reach out to every community and subculture'
Though Secular Pro-Life doesn't have "any official connection" with Pro-Life Pagans, Hazzard told The Fix in an email, "I'm sure we have some membership overlap, and we share each other's Facebook posts from time to time."
Hazzard cited "one woman who is active in Pagan pro-life work" who is on the advisory board "for an upcoming Secular Pro-Life project to celebrate the 40th anniversary of the Hyde Amendment," which cut off federal funding for abortion in most circumstances.
It's important to work with diverse pro-life groups, because "if we're going to make abortion unthinkable, we have to reach out to every community and subculture," she said.
Groups like Pro-Life Pagans "are doing a great job reaching a portion of people who are often overlooked yet need this message just as much as the rest of us," Destiny Herndon-De La Rosa, the founder and president of New Wave Feminists, told The Fix in an email.
"This is a human rights issue and all humans, no matter their color or creed, should be fighting to free society from the lie that women need abortion to be fully liberated," she said.
New Wave Feminists participated in the March for Life in Washington.
The group, whose motto is "Badass. Prolife. Feminists," has spoken at several Students for Life and Pro-Life Texas events.
"New Wave Feminists use humor to deconstruct the pro-abortion ties of the feminist movement," SFL's Hernandez said. "They show that true feminism is coming out from under the patriarchal construct of abortion that enslaves women, and that you can do it with a laugh."
Like The College Fix on Facebook / Follow us on Twitter
IMAGE: different_nata/Shutterstock