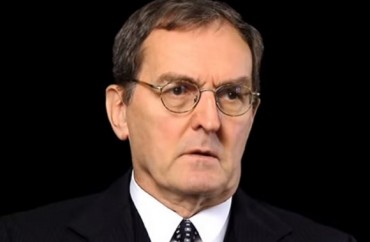 Campus says John Derbyshire crosses line between 'free speech and hate speech'
Williams College on Thursday disinvited controversial commentator John Derbyshire from speaking there, marking the second time in five months an invitation to a contested guest speaker has been revoked at the elite New England school.
Derbyshire had been invited by the campus student group Uncomfortable Learning, which aims to challenge peers to think outside the progressive and preppy college's so-called Purple Bubble by inviting thought-provoking speakers to campus.
The paleoconservative's past writings have been accused of open hostility toward African-Americans, including advice to avoid large groups of black people. For that, he was booted in 2012 from National Review as a contributing writer. Derbyshire's scholarship also proved too much for some students who vehemently protested his appearance.
"There were people who said bringing him here would be literal violence," Zach Wood, the student president of Uncomfortable Learning, told The College Fix on Thursday in a telephone interview.
"He was going to be speaking on immigration and a lot of his speech was going to be political-scientific analysis and stats explaining why he … supports Donald Trump [on immigration]," Wood said, adding Derbyshire is a mathematician who uses facts and data to back up his arguments. "Race would have played into it, but the main point wasn't going to be black-white race relations in America."
The planned speech prompted a wave of steep criticism from students on Facebook, Yik Yak and other social media channels who declared Derbyshire openly racist and suggested that to allow him on campus would "dehumanize" them, Wood said.
"People really over-emphasized a few statements [Derbyshire] made that I myself disagreed with, but the point was to have him here so we could question him and support free speech and intellectual freedom," said Wood, who is black.
But two days after the event was widely publicized, Williams College President Adam Falk shut it down.
"Today I am taking the extraordinary step of canceling a speech by John Derbyshire, who was to have presented his views here on Monday night," Falk stated Thursday in an email to the campus community. "The college didn't invite Derbyshire, but I have made it clear to the students who did that the college will not provide a platform for him."
Wood said he is "deeply disappointed" by Falk's decision.
"We were looking forward to it, there were even students of color on campus who said we think this is an opportunity to challenge [Derbyshire's] views, question what he thinks, assess how he would present his arguments in 45 minutes," said Wood, 20, a political science and philosophy major.
Wood, a Democrat who describes himself as an "intellectual purist," added that "the life of the mind is something I value very deeply — asking tough questions."
"There is something fundamentally wrong with the president of a college taking away an opportunity" for that pursuit, Wood added.
But in a statement Thursday to The College Fix, Williams College media relations director Mary Dettloff said "Mr. Derbyshire has a history of writing racist, homophobic and misogynist views that President Falk felt crossed the line between free speech and hate speech."
The decision to disinvite Derbyshire marks the second time in five months a controversial speaker has been snubbed by the campus. Last fall, cultural critic Suzanne Venker, author of "The War on Men," was disinvited to speak at Williams after students protested her anti-feminist arguments.
After the backlash, Uncomfortable Learning had agreed to rescind her invitation, Wood said, adding this time around the group had nothing to do with the disinvitation.
After the Venker decision, Falk in October defended the notion of free speech on campus, writing in The Williams Record campus newspaper that "Williams has a long history of inviting controversial speakers to campus and no history of uninviting them, and this is a point of absolute principle."
"Ours is an institution of higher learning; such learning cannot occur without broad and enthusiastic exposure to a wide range of ideas and perspectives," Falk wrote. "And certainly the invitation of a speaker to campus isn't in and of itself an endorsement – by the College or by individuals who invite a speaker – of that person's views. Whatever our own views may be, we should be active in bringing to campus speakers whose opinions are different from our own."
The Foundation for Individual Rights in Education weighed in on the matter Thursday, noting that Williams' "paternalistic administrators" decided Derbyshire's ideas were too dangerous for college students to hear, "even when students themselves have established a program specifically for the purpose of engaging with such ideas."
For Wood, he said he is focused on his next big event: hosting controversial conservative author Charles Murray in March. However, in 2014, Murray was disinivted from speaking to a private Christian college in Southern California.
"Is Adam Falk planning on banning Charles Murray," Wood said. "I would like to know."
RELATED: Here's the speech students at Williams College were too outraged and offended to hear
Like The College Fix on Facebook / Follow us on Twitter
MAIN: YouTube screenshot