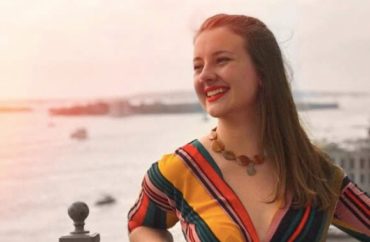 Included 'Black Theology' and ' Indigenous ecology'
A self-described pantheistic Yale Divinity School student organized and led a celebration of the Earth on Friday, in honor of Earth Day.
Tasha Brownfield said she "decided to make a space where people could worship authentically and include Black Theology, Indigenous ecology, [and] some southern charm," according to the Yale Daily News.
Brownfield (pictured) is an "intern minister" with the First Unitarian Congregational Society in Brooklyn. She told the congregation she is "spiritually pluralistic, specifically towards pantheism."
She told the campus newspaper she wanted a place "separated from the elitism of the institution to something that's really embodied and grounded within this space."
Her pagan worship on Friday included "Indigenous- and Black ecology-based with a sprinkle of cosmology and Pantheistic mysticism," according to the campus newspaper. "Pantheistic mysticism is a religious practice that Brownfield is trying to found and curate herself," the paper reported.
The event included "a prayer to Prithivi, Hinduism's personification of Mother Earth." Another student, Nailah Garard, gave a talk about "Black Ecology," an idea that relates to "racialized aspects of climate change" and how the "fight against climate change can be a means toward Black liberation," the paper reported.
"[As]…long as the racist attributes of some of the traditional ecological thinking are revealed and mitigated," the paper reported.
The black ecology speaker "is a Masters of Religion candidate studying Black/African Diasporic Religion and Ecology."
Garard's research interests include "how we locate the black church by utilizing a black-indigenous and eco-womanist lens" which "sees the land as the basis of all liberation and acknowledges the central role of black women, the lived experience, and non-Christian communal beliefs."
"Brownfield said that for the past month, she has been trying to figure out how to spread her religious ideas while not being exclusive to other voices that are also marginalized," the paper noted.
However, the woke student's noontime event appropriated from Catholics the Angelus prayer, said by some in the morning, at 12 noon and 6 p.m. to Mary, the Mother of God, and replaced it with prayers to "Mother Earth."
MORE: Duke Divinity School worships 'great queer one'
IMAGE: First Unitarian Congregational Society Brooklyn
Like The College Fix on Facebook / Follow us on Twitter