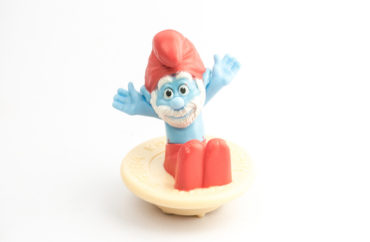 Student council is 'self-aggrandizing body,' says prankster
The student government at a private college recently had to deal with a cartoon character's being elected to the council, with several students subsequently putting forth a resolution celebrating the fictional character's political victory.
Student voters elected Papa Smurf to the College Council at Williams College in the council's most recent election, voting for him in significant numbers. The fictional character "received nine write-in votes for the class of 2021 representative – more votes than three of the students actually elected," The Williams Record reports.
Several students eventually proposed a "Resolution on Blue Democracy." That resolution stipulated to the council five demands:
Recognize Papa Smurf as a force for political leadership on the Williams campus; commend Papa Smurf for his ability to unite a diverse spectrum of students; designate the four Class of 2021 Representatives as 'Papa Smurf Memorial Class of 2021 Representatives,' a designation to be held until the year 2022; delineate an area of every meeting for the display of a 'Papa Smurf Portrait,' dutifully provided by sympathetic students; and hold a vote on Papa Smurf's Nine-Step-Plan: A Blue New Deal.
The resolution passed, though the proposed "Blue New Deal" did not.
One student who worked on the Smurf-centric resolution said he did so as a commentary on the College Council's arrogance and undue exercise of power, telling the student newspaper:
I see CC as a self-aggrandizing body that determines which activities of student clubs and coalitions have "worth" to this campus; I also believe that many who run for positions on CC do purely for their resumes…I think at Williams and at large, we give too much power to the vote and to electoralism, and … the real capacity for change on this campus comes from individual and collective student action, not from "representatives."
Another representative called the resolution a "blatant sign of disrespect for student governance" and said that it was "part of a broader trend, including a class representative who ran on a platform of abolishing CC, to engage in performative acts of self-aggrandizement instead of acting in the best interests of their fellow students."
MORE: The buffoonery that is college student government
IMAGE: N Azlin Sha / Shutterstock.com
Like The College Fix on Facebook / Follow us on Twitter