There she was: US Women's Soccer star Megan Rapinoe at the White House complaining, again, about how poorly she is compensated — merely because she is a woman.
She also slammed efforts to prevent biological males, in this case, transgender women, from competing in women's sports, saying "middle fingers to all these trans bills."
Possibly reading from one of his handler's innumerable cue cards, President Biden chimed in saying "There's not a single thing a man can do that a woman can't do as well or better. Not a single thing."
Yeah, sure boss.
Social media was awash with those defending Rapinoe and Biden, as well as those mocking them. Any sane person would have to go with the latter, especially given progressive and Democrat bluster about being the "Party of Science."
I'm not going to quibble with whether Rapinoe has been "disrespected and dismissed" merely because she's a female. There's plenty for which to disrespect and dismiss her — like her potty mouth — but her gender ain't one. But I will quibble with her (and Biden's) silly contentions.
MORE: Sorry, feminists and progressives: Men are better athletes
There are many reasons why Rapinoe isn't paid as well as men soccer players, and part of it does have to do with her gender. This where science comes in. Men are in fact stronger and faster than women. Given this, Rapinoe does not do "the same job" as male players. She couldn't even do the same job as teenage boys. (This story is true, but the image below is satire. Just in case.)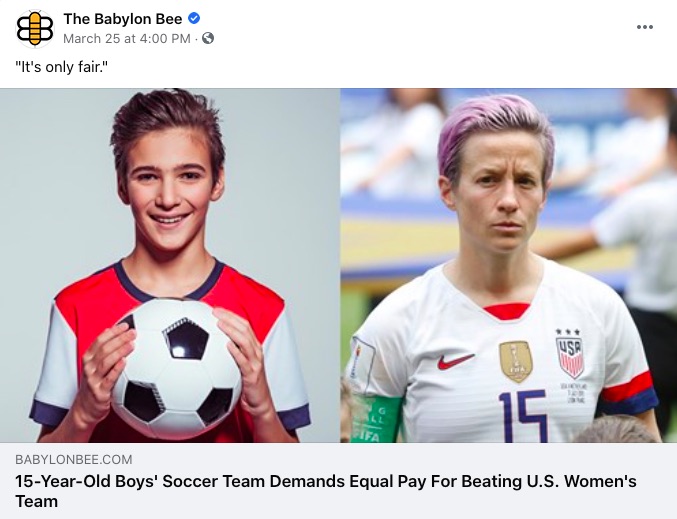 As noted by PolitiFact in 2019, the compensation formulas for the US Men's and Women's Soccer teams are intricate, but ultimately it comes down to the fact that the (men's) World Cup brings in way more cash than the Women's World Cup, and it's not even close. The reasons for this include the fact that way more men play soccer around the world, and the level of competition is significantly more challenging.
US Soccer's Megan Rapinoe at the White House:

"I've been disrespected and dismissed because I am a woman. I've been told that I don't deserve any more than less because I am a woman. Despite all the wins, I'm still paid less than men who do the same job that I do." pic.twitter.com/QC7N2g4OJp

— Daily Caller (@DailyCaller) March 24, 2021
But progressives want fairness without the scenario actually being fair. Rapinoe wouldn't come close to making the men's national team, let alone any top tier professional soccer team anywhere in the world. How many players in the WNBA would even sit the bench on an NBA team? Should women golfers should get the same pay as men, even though play much shorter courses? Should women tennis players get the same cash as men, yet still play two fewer sets per match?
What would be Rapinoe's reaction if a bunch of transgender women ended up on the US Women's Soccer team … replacing her? Think her middle fingers suddenly would go down?
Anyone paying attention knows all of this is unsurprising. When you view everything through a lens of race, gender and sexuality, the result is often nonsense. True fairness in the sports realm would be eliminating gender separation altogether, but then women would be relegated to mere footnotes, in any sport. The left doesn't want that, of course, but they'll continue to rationalize "fairness" in their usual critical-theory style.
MORE: Girls' HS soccer team protests for 'equal pay' during game
IMAGE: Babylon Bee / Facebook screencap
Like The College Fix on Facebook / Follow us on Twitter