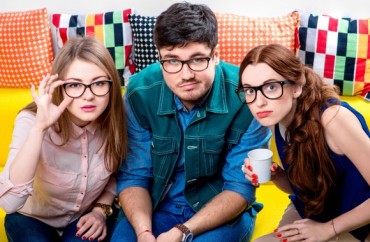 'Gangsta'-themed party and dark-skinned blow-up doll prompt group's formation
At the University of Pennsylvania, a student mediation group is forming to address "incidents of discrimination" allegedly committed by sororities and fraternities at the Ivy League school.
"It will … meet to address incidents of religious, cultural, racial, gender, sexuality, citizenship discrimination within the Greek community," the student government's Vice President Ray Clark recently told The Daily Pennsylvanian.
The newly proposed organization is called the Greek Student Community Consortium, and it will have "no official role in Greek life and no authority to impose sanctions," Penn spokesman Ron Ozio told The College Fix in an email.
"[U]niversity administrators have been providing technical assistance to the student leaders committed to attempting this type of conflict resolution," Ozio said. "The Consortium is a student-conceived mediation group still in the early stages of formation. As in all mediations, all parties would have to opt in and work together to address any issues of concern."
The idea for the Greek Student Community Consortium was first floated last fall, when two Penn students wrote an op-ed last September proposing the creation of a court in which complaints could be voiced and punishments meted out over claims of culturally insensitivity within the school's Greek Life.
It was co-authored by Clark and Interfraternity Council Judicial Inquiry Board Manager Griffin Rubin, who cited two incidents of alleged Greek cultural insensitivity from 2014 they had witnessed during their three years at Penn.
The first was a "gangsta"-themed party and the second was a Christmas photo
of fraternity brothers posing in holiday attire with a dark-skinned blow-up doll on the side of the picture.
Clark and Rubin wrote that these incidents were "deeply concerning on a cultural awareness level." Moreover, according to the two students, there is a "lack of a system of recourse for both Greek and non-Greek Penn students to report incidents of potential cultural insensitivity."
RELATED: Stop calling the frat Christmas card with Beyonce sex doll 'racist'
RELATED: Penn group holds 'slave auction' to protest 'offensive' frat Christmas card
Thus, the two students wrote a constitution for a Greek Community Judicial Board. The constitution stated fraternities or sororities may be subject to some sort of educational "sanctions" levied by the Greek Community Judicial Board with approval of the Office of Fraternity and Sorority Life and Office of Student Conduct.
Clark and Rubin claimed to have consulted with administrators, writing that "our administrators stand wholeheartedly behind us in a vision for a respectful and accountable Penn campus."
Yet administrators later told The Daily Pennsylvanian that their involvement with planning the Greek Community Judicial Board was exaggerated.
"To be clear, I think there [are] some overstatements in the op-ed," Eddie Banks-Crosson, the director of the Office of Fraternity and Sorority Life, told the Pennsylvanian. "There have been conversations with administrators, not to the depth that I think that the article suggests."
Banks-Crosson commented in October that the Greek Community Judicial Board may impinge upon free speech at Penn. He told the Pennsylvanian that "while the students may have tried to manage their pain by wanting to sanction speech, the administration has conveyed that Penn does not and will not sanction speech."
Penn's Committee on Open Expression, which exists to ensure free speech is protected on campus, also was not consulted during the first drafting of the constitution.
Following the backlash, the discussion around the Greek Community Judicial Board evolved into the now-proposed Greek Student Community Consortium.
Ari Cohn, program officer for legal and public advocacy at the Foundation for Individual Rights in Education, told The College Fix via email that Penn has been a guarantor of free speech on campus for the last few years.
"In recent years, Penn has had a good track record of respecting its students free speech rights, as one of FIRE's green-light institutions," Cohn said. "So we are pleased to see the administration live up to that reputation by informing students that the university did not approve of the initial plan to punish speech deemed culturally insensitive."
The need for a "Greek Community Judicial Board" remains unsubstantiated, he added.
"Unfortunately, this [the original GCJB] is yet another example of students reflexively turning to censorship rather than debate (which, ultimately, is education) in order to resolve campus and societal issues," Cohn added. "Though censorship may be easier, it is ultimately more effective and more powerful to respond to ideas and expression that one finds distasteful with better speech."
Like The College Fix on Facebook / Follow us on Twitter
IMAGE: Shuttestock