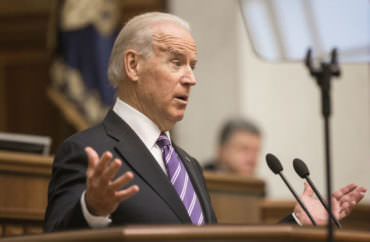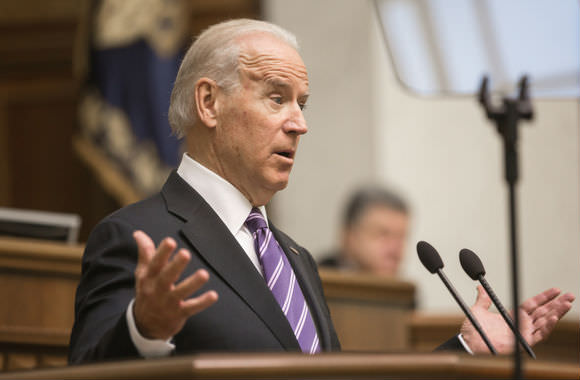 Just days after 'Biden Courage Awards'
A year ago, the University of Pennsylvania scrubbed a major donor's name from campus after several women accused him of sexual harassment.
Now it has to consider how to respond to allegations against a much bigger name: the former vice president of the United States, potential 2020 presidential candidate, and leading campaigner against campus sexual assault.
Joe Biden is the namesake of the private university's Penn Biden Center for Diplomacy and Global Engagement, set up shortly after his service in the Obama administration ended. The university also named him the Benjamin Franklin presidential practice professor. He has appeared and spoken many times at Penn over the past 12 months.
On Friday night, a former Democratic candidate for lieutenant governor of Nevada, Lucy Flores, accused Biden of inappropriately touching her at a campaign stop in 2014.
The vice president allegedly smelled Flores' hair from behind, as she was preparing to take the stage, and "proceeded to plant a big slow kiss on the back of my head," she wrote in an essay for New York magazine.
The timing of the allegation is also bad for a group that has benefited tremendously from using Biden's star power.
Biden helped launch the White House "It's On Us" campaign against campus sexual assault in 2014, and this week his foundation co-hosted the Biden Courage Awards with the It's On Us project. The topic of his speech at the gala: "white man's culture has to change."
Penn media relations has not responded to College Fix queries Friday night about whether it plans to treat Biden the same as it treated casino magnate Steve Wynn. The university quickly removed Wynn's name from Wynn Commons and a scholarship following allegations from several women.
Neither the Penn Biden Center nor It's On Us has publicly responded to the allegations against Biden as of late Friday.
MORE: Penn scrubs Wynn's name, keeps his millions in donations
Thank you to every single person who made this year's #BidenCourageAwards possible.

Students, if this year's awards inspired you, apply to be an @ItsOnUs Campus Organizer or Regional Advisor for the 2019-2020 school year: https://t.co/4128rKGuE3 pic.twitter.com/tZEbj5Eebv

— It's On Us (@ItsOnUs) March 28, 2019
'Touched me in an intimate way reserved for close friends'
Biden's eyebrow-raising behavior with women in public has long made him a subject of mockery among conservatives, including after Penn named its think tank after him. But he has largely escaped scrutiny in Democratic politics and advocacy against sexual assault.
Sometimes Biden participates in conference calls with It's On Us. Biden compared advocates of due process in campus sexual-misconduct proceedings to "Nazis" who marched in Charlottesville's "Unite the Right" rally, in a 2017 call with the group.
The mainstream media briefly took note of Biden's public behavior in 2015, after his close encounter with the wife of the new secretary of defense (below).
New York published photos of "9 Times Joe Biden Creepily Whispered in Women's Ears," while a Washington Post column about "Creepy Uncle Joe" imagined an "intervention" with the vice president about his habit of "leaning like a creeper" behind women.
The new essay by Flores, the former candidate for lieutenant governor, characterized Biden's behavior as beyond creepy.
The vice president had come to Nevada to boost voter turnout, and he was supposed to discuss Flores' leadership, qualifications and her "potential to be second-in-command."
"My brain couldn't process what was happening" when the vice president allegedly came up behind her and "touched me in an intimate way reserved for close friends, family, or romantic partners," she wrote.
"There is a Spanish saying, 'tragame tierra,' it means, 'earth, swallow me whole,'" Flores continued. "I couldn't move and I couldn't say anything. I wanted nothing more than to get Biden away from me."
MORE: Warn the Title IX office, because Biden is becoming a Penn professor
Today's the day! This afternoon is our official opening in Washington, DC. We're so proud to introduce the Penn Biden Center for Diplomacy and Global Engagement to the world! https://t.co/J1ImoXcUE2 pic.twitter.com/dSBZhTGxm4

— Penn Biden Center (@PennBiden) February 8, 2018
Removed Wynn's name four days after allegations
But Flores stopped short of describing the encounter as sexual harassment. Biden made her "feel uneasy, gross, and confused," and he was "demeaning and disrespectful."
She explained her reluctance to speak publicly: "Is it enough of a transgression if a man touches and kisses you without consent, but doesn't rise to the level of what most people consider sexual assault?"
She grew emboldened to speak after seeing photos of Biden "getting uncomfortably close with women and young girls" over the years, and finally went public in response to Biden's potential presidential candidacy.
A spokesperson for Biden, Bill Russo, wrote in a statement obtained by NPR that the current Penn professor "was pleased" to support Flores.
"Neither then, nor in the years since, did he or the staff with him at the time have an inkling that Ms. Flores had been at any time uncomfortable, nor do they recall what she describes," Russo said.
Penn removed Wynn's name from the commons just four days after allegations surfaced against the 1963 graduate and former trustee, who had donated more than $7.5 million to his alma mater. Just last month, the university removed two plaques that referenced "Wynn Commons" from benches outside College Hall.
The Wynn allegations also spurred an campuswide email.
"The nature, severity, and extent of these allegations, and the pattern of abusive behavior they describe, involve acts and conduct that are inimical to the core values of our University," President Amy Gutmann and Chairman David Cohen wrote in an email to the community.
BREAKING | In light of sexual misconduct allegations against Steve Wynn @Penn just announced they will remove the name Wynn Commons from the plaza, remove Wynn's name from the scholarship fund established by his donation, and revoke his honorary degree. pic.twitter.com/Go2LfXtNa1

— The Daily Pennsylvanian (@dailypenn) February 1, 2018
MORE: Biden suggests confiscating college money if they don't judge men rapists
IMAGE: Drop of Light/Shutterstock, Roll Call/YouTube
Like The College Fix on Facebook / Follow us on Twitter