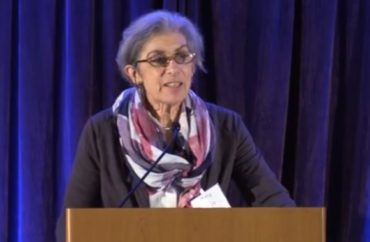 The dean of the University of Pennsylvania Law School has called for a "major sanction" against a tenured professor known for making controversial statements about race and sexual identity.
In late June, Law School Dean Ted Ruger sent a 12-page letter accusing Professor Amy Wax of "incessant racist, sexist, xenophobic and homophobic actions and statements."
"Academic freedom for a tenured scholar is, and always has been, premised on a faculty member remaining fit to perform the minimal requirements of the job," Ruger wrote. "However, Wax's conduct demonstrates a 'flagrant disregard of the standards, rules, or mission of the University.'"
According to Penn's policy handbook, a "major sanction" means "termination; suspension; reduction in academic base salary; zero salary increases stipulated in advance for a period of four or more years."
A spokesperson for Penn did not respond to a College Fix request to comment. In a statement to The Daily Pennsylvanian, Penn Law spokesperson Meredith Rovine confirmed the charges against Wax will now be evaluated by "a group of her peers" among the university's tenured faculty.
Wax's public comments have long been the subject of controversy.
In 2018, she bemoaned the underperformance of black students at the Penn Law School, saying, "I don't think I've ever seen a black student graduate in the top quarter of the [law school] class, and rarely, rarely in the top half."
Wax later told television host Tucker Carlson there "is just a tremendous amount of resentment and shame of non-western peoples against western peoples for western peoples' outsized achievements and contributions."
In 2021, Wax invited a white supremacist named Jared Taylor to be a featured guest speaker in one of her courses.
"To have Taylor as her guest at a lunch with her students who were expected to attend, crosses the line of what is acceptable in a University environment where principles of non-discrimination apply," Ruger wrote in his letter.
In 2022, Wax said America would be "better off with fewer Asians and less Asian immigration." She allegedly stated in class that Mexican men are more likely to assault women and that such a stereotype was acceptable because everyone believes "Germans are punctual." She also allegedly said gay couples are not fit to raise children.
As a result of her comments about black achievement, Wax was barred in 2018 from teaching first-year classes.
Wax did not immediately respond to a request by The College Fix to comment.
Wax has set up a website to raise money for her legal defense fund. To date, she has raised over $25,000 to pay her legal bills, including a single anonymous $10,000 contribution.
On the fundraising site, she states Ruger's letter is "littered with indignant invective and unsubstantiated and distorted claims."
"Penn Law Dean Ruger's latest steps are part of a longstanding campaign at Penn Law School against me based on my stated positions, opinions, and speech, and despite my stellar performance as an award-winning teacher and academic during my decades-long career as a law professor," Wax wrote.
"Penn's actions represent an unprecedented and deeply destructive threat to the practice and traditions of free expression on campus and the tenure protections afforded to professors who express unpopular views. They are further evidence of the 'woke' takeover of our university system, which seeks to stifle and punish dissent and purge our campuses of any deviation from a narrow set of progressive dogmas."
Wax is represented by the Foundation for Individual Rights and Expression, a group supporting free speech on college campuses.
In a summary of the Wax case, Graham Piro of FIRE wrote that while Wax's statements may be "offensive to many," her speech "remains protected by Penn's promises of academic freedom."
"Universities should take pervasive complaints against faculty members seriously, and conduct falling outside of First Amendment protection — or, at a private university like Penn, protections promised by the university — should be dealt with in a clear and transparent manner," Piro wrote. "But faculty must not be penalized for their protected expression, especially protected expression outside the classroom."
Ruger's letter charges that Wax's statements, which he calls "antithetical to the University's mission to foster a diverse and inclusive community," make her class less hospitable for students of color.
"As a result of Wax's derogatory and misleading statements, students who have taken her classes have expressed anxiety that they will be accused of being at the bottom of their class since the number of minority students in her classes is finite and easily identifiable," he wrote.
In late January, Wax participated in an interview with Concordia University Professor Gad Saad in which she predicted she would be "roadkill … a casualty in the culture wars."
But she has vowed to fight on.
"I am committed to fighting Penn's efforts to banish and punish me," Wax wrote on her fundraising page.
MORE: Controversial Penn Law Professor Amy Wax appears next on cancel culture chopping block
IMAGE: YouTube Screenshot
Like The College Fix on Facebook / Follow us on Twitter