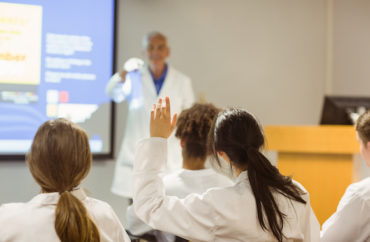 Coronavirus has exposed major flaws in med school curricula
A medical professor at the University of Pennsylvania's medical school is speaking out about what he says is the compromised state of medical education, claiming that activist educators and administrators have corrupted it to the point that med students are failing to learn valuable knowledge while being fed a steady stream of politically correct curricula.
Stanley Goldfarb is a nephrologist and a professor of medicine at the hospital of the University of Pennsylvania. He is also a former associate dean of curricula at the University of Pennsylvania's Perelman School of Medicine.
In the past few years, Goldfarb has attracted a fair bit of controversy for criticizing the state of American medical education and its focus on social justice, most notably in a pair of Wall Street Journal op-eds from 2019 and 2020.
In response to those articles, many physicians were swift to condemn what they perceived to be Goldfarb's minimization of how issues such as income inequality and racial discrimination affect health outcomes. In September of last year, over 150 former Penn medical alumni penned an article which lambasted Goldfarb for his alleged callousness in the journal Medscape.
Though he has been criticized for his pragmatic views about the purpose of medical education and is smeared as unsympathetic and cold, Goldfarb does not readily conform to that assessment. After his wife, a public school teacher who taught in inner-city Philadelphia schools for forty-five years and who was passionate about women's issues, died of ovarian cancer, he created an endowment for poor women who lacked access to medical care to memorialize her.
His convictions about medical education are in contrast to the caricatures of it, quite simple: He believes it should provide physicians with the language of medicine.
The pandemic has highlighted the weaknesses of med schools
In a lengthy interview with The College Fix, Goldfarb argued that the coronavirus panic—in which much of the world's economy has been shut down on the advice of doctors warning of the virus's theoretical effects on society—has revealed the significant shortcomings of a modern medical education.
Medical students, Goldfarb said, "need to understand the statistical bases for the claims that are made in medical journal articles." Doing so, he said, will help students understand "the significance of new developments" in the medical field.
Remarking the statistical requirements for medical students that were in place when he was dean of curricula at Penn, Goldfarb recalled: "The students completed a statistics course that went for a couple of weeks where the students would meet for between 1-2 hours, five days a week and would then take an exam at the end. That was it."
He tried to increase student exposure to statistical topics in medicine, but to no avail.
"None of my efforts were very popular and they were ultimately abandoned because students weren't particularly interested in it and the faculty weren't willing to devote enough time," he said.
That significant gap in medical school curricula, Goldfarb said, has been on clear display throughout the pandemic, in which media, governments and laypersons have all increasingly turned to COVID-19 models in an effort to predict where the disease will go next. Doctors have largely gone alone with these models, even as so many of them have turned out to be inaccurate or poorly designed.
"Patients ask them about it, institutions ask them about it and the media asks them about it. All physicians can't be experts in epidemiological models, but they should be able to understand them and be critical of the assumptions that these models rely on to produce predictions," he said.
"Physicians should be clinical scientists. Physicians must have enough statistical literacy to be able to confront new ideas and new information so that they can be knowledgeable consumers of that information and be able to synthesize it appropriately."
Medical schools inject social problems into curricula
Goldfarb argued that there's an important distinction "between the statistical knowledge that you need to get through your next clinical rotation and the statistical knowledge that you need to become a clinical scientist that can consume complex information in a sophisticated manner." Currently, in a four-year medical school program, student physicians are only spending about 2 weeks on statistical training, which to Goldfarb, "is simply not enough."
One thing to which Goldfarb referred several times throughout the interview was how the COVID-19 pandemic has also highlighted the inability for physicians to "medicalize" non-medicinal social problems.
While commenting on how COVID-19 has disproportionately affected minority communities, Goldfarb noted NBC's Chuck Todd's coverage on the subject, where the television host claimed that minorities don't have access to healthcare.
"He's incorrect," Goldfarb said, noting that patients get treated at hospitals no matter the color of their skin. He believes the disparity of medical outcomes is a consequence of complex economic and social factors, which doctors "have no power or influence" over "because they don't relate to patient care."
In medical school seminars where these topics are discussed, "there's no discussion about economic strategies that can be used to alleviate the issues." Instead, students are asked to "examine their own unrecognized biases and racism."
"They don't want to talk about patient care. They want to talk about intersectionality. I believe that this represents politics and not medical science."
How to revitalize American medical education
Goldfarb has been repeatedly attacked for attempting to diminish the importance of social determinants of health. To this, he responds: "I don't diminish them at all. I just point out that doctors can't do anything about them."
"These are important topics," he said, and he's "fine with a small amount of the curriculum being dedicated to promoting awareness of these issues." However, he objects to the current focus in medical school curricula because "no patients are being helped by this brand of activism."
Goldfarb believes that the best way forward is to "give power back to the faculty. The power has been concentrated in a small cadre of activist educators." Faculty largely don't resist this small group because they are focused on their research and their clinical practice. According to Goldfarb, "many deans of medical schools are surprisingly separated from the schools' educational function because they have many other focuses."
"If medical education is going to be improved, it needs to be controlled by the faculty and not be a small number of educators with strong political motives. Faculty members need to be engaged and think hard about which content students should be taught instead of activists dictating the curriculum."
Goldfarb believes that faculty need to tell students what they need to learn and not be as concerned about which topics students "think are fun."
"These activist educators love to talk about social justice and equality but they're failing to consider what is in the public's best interest with respect to medical school curricula," he said.
MORE: Harvard teaching hospital to take down portraits of white male doctors
MORE: Trans activists gearing up to rewrite Harvard Med School's curriculum
IMAGE: ESB Professional / Shutterstock.com
Like The College Fix on Facebook / Follow us on Twitter