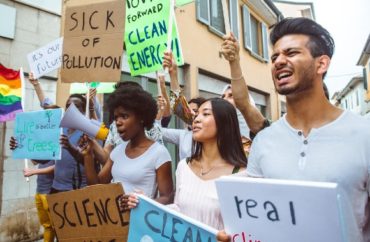 Students will learn about 'rightwing populism' and climate change
University of Pennsylvania students can learn how white nationalism intersects with climate change this semester.
The course, "Extreme Heat: White Nationalism in the Age of Climate Change," will help students learn about the "relationship between environmentalism, rightwing populism and the climate crisis."
"The glaciers are melting. Heat waves, hurricanes, earthquakes, floods, wildfires, and droughts devastate ever larger swaths of the earth, producing crop failures, air pollution, soil erosion, famine and terrifying individual hardship," the syllabus said.
Simultaneously, "White militants chant 'blood and soil' and 'Jews will not replace us,' social media spreads memes and talking-points about "white genocide" and 'white replacement' and YouTube celebrities fantasize about building white ethnostates," the course description said.
Students in the Environmental Humanities course will also read several books including one by self-proclaimed Communist Angela Davis and Black Panther Huey Newton.
Enrollees will also read Carol Anderson's "White Rage: The Unspoken Truth of Our Racial Divide."
Instructor Anne Berg did not respond to a College Fix email inquiry on August 19 that asked for more information about what she hoped students would learn from the course and about which YouTube celebrities were promoting ethnostates.
College of Arts and Sciences won't give Navy students credit
While students can earn credit from the College of Arts and Sciences if they learn about how white supremacy and climate change go hand in hand, they cannot earn credit for preparing for a Navy career.
Students in the Naval Reserve Officer Training Corps cannot apply their ROTC courses to graduation requirements. CAS is the school at the Ivy League university that does not allow Navy cadets to apply classes to credit requirements.
"Despite previous student advocacy efforts in 2014, Penn students' Naval Science (NSCI) courses do not count as credit toward their CAS degree," Jaden Cloobeck wrote in a recent essay for The Daily Pennsylvanian.
"Furthermore, the College stands alone in offering no credit since some NSCI classes count in Wharton, Engineering, and Nursing," Cloobeck wrote in the campus newspaper.
The Fix reached out to the CAS media relations department multiple times via email within the past week and asked if it would consider allowing the ROTC classes to count for degree credit.
The College Fix did not receive a response.
"Though Penn is an excellent educational institution, it regrettably tarnishes itself by buying into the worst of the ideological left," Ben Zeisloft, the editor of the conservative campus UPenn Statesman, told The Fix via email.
"Many professors' worldviews are shaped by Marxism, which is a false gospel that acts as battery acid for any society into which it enters," Zeisloft told The College Fix. "I hope to see a day where Penn ceases its partisanship and unconditional surrender to leftists and their bad ideas."
MORE: College defends its 'White Citizenship as Terrorism' event
IMAGE: One inch punch/Shutterstock.com
Like The College Fix on Facebook / Follow us on Twitter