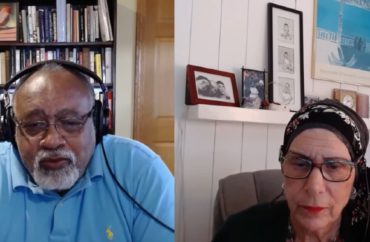 Says the U.S. would do better with 'fewer Asians and less Asian immigration'
The University of Pennsylvania announced plans on January 18 to start proceedings that could end in suspension or termination for Professor Amy Wax.
The investigation is related to comments Wax (pictured) made in December on a podcast with Brown University Professor Glenn Loury (pictured). The topic for the show was "Contesting American Identity." She posted follow-up comments on his Substack that also drew criticism.
Ted Ruger, the dean of Penn law school, released a statement saying Wax has "repeatedly made derogatory public statements about the characteristics, attitudes, and abilities of a majority of those who study, teach, and work [at Penn]."
"Taking her public behavior, prior complaints, and more recent complaints together, I have decided it is my responsibility as Dean to initiate the University procedure governing sanctions taken against a faculty member," Ruger said. He previously said Wax had made comments using the "vernacular of white nationalism and white supremacy."
Wax spoke with Professor Loury on his podcast "The Glenn Show" in late December saying the "influx of Asian elites" is "problematic."
The Penn professor said many Asian immigrants are "more conformist to whatever the dominant ethos [is]" such as "wokeness." She said a better policy is one that focuses on the "heartland population" of white and black citizens who are "the descendants of people that built this country."
She said there are "anti-American sentiments" that many Asians feel they must reflect if they want to be seen as successful and elite.
"In my opinion, the Democratic Party is a pernicious influence and force in our country today," Wax wrote in a follow-up post on Loury's website. "[A]s long as most Asians support Democrats and help to advance their positions, I think the United States is better off with fewer Asians and less Asian immigration."
Dean Ruger did not respond to two emailed requests for comment. The College Fix asked him if there is a specific policy that prohibits faculty members from discussing immigration policy.
"At this time, as required by the University Handbook, and to preserve the integrity of the process, we will not make any public statements about the charges and proceedings until they have been completed," law school communications director Rebecca Anderson told The College Fix. She shared a link to the January 18 statement.
Loury told The Fix he "strongly disagrees" with Wax's statements but does not want to see her silenced. He said he does not think the university should sanction her for "giving voice to unpopular opinions."
"I think the only fit response to her statements by those who take issue with her, like me, is to make an argument and to offer evidence to refute those opinions," the Brown professor said.
"Her remarks, as unsettling as they are for some, are a far cry from 'hate speech,'" he said. "Her detractors do not have to invite her to dinner! If they must, they are free to call her names. But, I am at pains to observe that neither social sanction nor vitriolic condemnation can prove her wrong."
Wax did not provide a comment when asked by The College Fix.
University initially declined to take action against Wax
The investigation into Wax is a reversal of Penn's initial statement, which included a condemnation of its professor, but support for her right to comment on issues.
The change came after petitions from the Penn community and a condemnation from the Philadelphia City Council.
Dean Ruger initially said on January 3:
The same academic freedom principles that permit current scholars to engage in critical and overdue analysis of this nation's historical and structural discrimination – despite zealous efforts to censor such speech by some – also apply to faculty like Wax who voice xenophobic and white supremacist views.
Law students organized a letter that included over 2,500 signatures from Penn students and people at other universities. The petition demanded the Faculty Senate Executive Board investigate Wax's continued employment.
The College Fix reached out to Apratim Vidyarthi, a third-year Penn law student and creator of the petition. Vidyarthi did not respond to a Facebook message that asked for his position on acceptable topics and views professors can hold.
Wax is no stranger to controversy. She was prohibited in 2018 from teaching first-year law classes for her remarks about black students.
"I don't think I've ever seen a black student graduate in the top quarter of the [law school] class, and rarely, rarely in the top half," Wax said. The university criticized the statement but never provided any figures to disprove her comment.
She made the comments in the context of explaining how affirmative action hurts minority students.
MORE: Immigration analyst says congressional proposal would hurt American grads
IMAGE: The Glenn Show/YouTube
Like The College Fix on Facebook / Follow us on Twitter