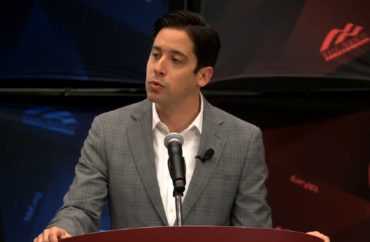 University ignores legal letter demanding answers
Administrators and students at Pennsylvania State University-Harrisburg have allegedly slow-walked the approval of a conservative group's event with conservative commentator Michael Knowles.
The Young Americans for Freedom chapter at the public university has been trying for months to get an event with the Daily Wire commentator approved, according to Young America's Foundation.
One way university officials have stymied approval of the event is by invoking a guideline that allows the school to reject "[a]ny event considered potentially harmful to the public image of Penn State Harrisburg."
The guideline is listed under the reservation policy for Kulkarni Theatre, an on-campus venue available to campus groups.
"The theatres are precious assets for the college community, available to help us meet the need for cultural, social and arts programming, preparing events for the entire college community," the university states.
But that desire for informative events does not include Knowles, an author, public speaker and host of a popular podcast and commentary show, according to YAF.
YAF also sent a legal letter to the university, demanding further information on the non-approval of the Knowles event.
"The school has continued to ignore all communications from YAF's legal counsel. The students are currently working through a funding appeals process," YAF spokesman Nick Baker told The College Fix on Feb. 21.
"We hope that the student government and university employees involved in these funding decisions will realize that they must be fair and objective this time around," he said.
The Fix also contacted PSU-Harrisburg's media relations but has not heard back in the past three weeks. The Fix asked the university for a response to YAF's allegations and whether it planned on responding to YAF's letter.
Baker wrote in an article on YAF's website that the student government also helped suppress the event by rejecting a funding request.
The student government "raised concerns that Knowles might 'discriminate against the transgender community,'" Baker wrote. "They demanded an outline of Knowles' 'talking points' and his biography."
"Even after the chapter provided a copy of Knowles' official biography, the student government deemed it 'insufficient,'" according to Baker.
Penn State-Harrisburg's student government has not responded in the past three weeks for comment on if it was a regular requirement for guest speakers to provide a copy of their notes and bio before coming to campus.
There is no information listed on PSU's event planning guidelines or theatre reservation page that states all speakers must provide an outline of their notes prior to venue reservation.
MORE: UW-Madison liberals 'physically sick' and 'hurt' by Matt Walsh event
IMAGE: YAF/YouTube
Like The College Fix on Facebook / Follow us on Twitter