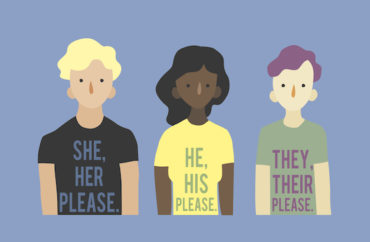 In April, the Penn State University Faculty Senate passed a resolution to remove "gendered and binary" terms from Penn State course and program descriptions. But the school has not yet said whether it will adopt the resolution campus-wide.
The recommendations in the resolution suggest terms like "freshman," "sophomore," "junior," and "senior" be replaced with "first-year," "second-year," "third-year," and "fourth-year." It would also replace the terms "underclassmen" and "upperclassmen" with "lower division" and "upper division."
The resolution, which passed by a vote of 125-13, further recommends the school "move away from the use of gendered pronouns when referring to students, faculty, staff, and guests in course descriptions and degree program descriptions" by replacing "he/him/his and she/her/hers with they/them/theirs or use non-gendered terms such as student, faculty member, staff member, etc."
"The University, as with most all academic institutions world-wide, has grown out of a typically male-centered world," reads the faculty senate website. "As such, many terms in our lexicon carry a strong, male-centric, binary character to them. Terms such as 'freshmen' are decidedly male-specific, while terms such as 'upperclassmen' can be interpreted as both sexist and classist. Terms such as 'junior' and 'senior' are parallel to western male father-son naming conventions, and much of our written documentation uses he/she pronouns."
The faculty recommend the school make these language changes to "recruiting materials, admissions materials, scholarship information, housing materials, other outward-facing documents, internal documents, and websites."
The school, however, has remained noncommittal.
"The Faculty Senate's decision pertains only to changes to course and program descriptions, which are within the purview of the Faculty Senate and not the administration or the Board of Trustees," Penn State spokeswoman Lisa Powers said in an email to The Daily Collegian. "These changes have occurred at many universities across the nation. We understand and respect that there are different viewpoints on these matters."
Penn State student Percy Rose told the Collegian that he was neutral on the faculty resolution, and that he thought much more could be done.
"I would say this is definitely not a negative thing — it doesn't help or harm anything though," Rose, a junior in digital arts and media design, told the paper. "I don't oppose the decision, I'm neutral to this. It is a positive thing that they did this, but nobody was asking for this… There are more important and impactful things they could be doing."
Read more here.
MORE: University of Minnesota threatens faculty for 'repeated misuse of pronouns' in new policy
IMAGE: Alice Che / Shutterstock.com
Like The College Fix on Facebook / Follow us on Twitter