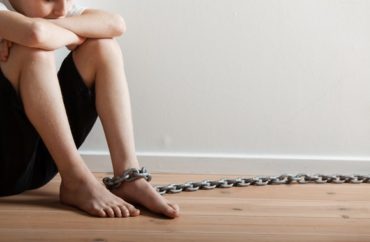 Must wear a mask when walking on a 'busy sidewalk'
Reducing the U.S. prison population has become a bipartisan and cross-ideological pursuit in recent years, but treating your on-campus student population like prisoners is growing in popularity on American college campuses.
Pennsylvania State University bragged about how many students it's punished since they returned to campus in mid-August in a press release Thursday. The 1,277 sanctions were issued for violations related to COVID-19 restrictions, which are particularly idiotic among a population at very low risk for novel coronavirus complications.
Students have been punished for "refusal to wear a mask or face covering in public, non-adherence to Penn State's quarantine/isolation guidelines, and failure to observe guidance that strictly moderates gatherings both on and off campus," the state-related university said. (Penn State gets taxpayer funding but otherwise acts much like a private university.)
About one-sixth of students have received sanctions beyond warnings:
204 have been placed on probation or probation with a transcript notation, which is reserved for multiple or more serious offenses; and 10 have been issued suspensions from the University, which prohibits them from registration, course attendance and on-campus living for the remainder of the academic year.

An additional 17 students have lost on-campus housing — most notably for violations against the stringent gathering and no-guest policies. These students have been given appropriate time to make new arrangements and move out of University housing. They will be refunded a pro-rated portion of unused housing fees, but will be prohibited from living on campus for the remainder of the 2020-21 academic year.
Students are expected to mask up even when they're outside and passing by people on a "busy sidewalk," a situation in which infection is highly unlikely, if not practically impossible. The "Penn State Coronavirus Compact" they were compelled to sign upon returning to campus also requires students to practice "physical distancing" off campus.
MORE: 26,000 positive COVID tests for students, zero hospitalizations
Referring to young adults who are hanging out with their friends while paying $33,000-53,000 for the on-campus experience, Vice President for Student Affairs Damon Sims (left) said Penn State will "continue to hold accountable those students who threaten our community" by breathing too close to others who are also at low risk of COVID-19 harms.
According to Penn State's COVID-19 dashboard, as of Thursday its flagship campus has experienced about 2,400 positive cases from "on-demand testing" and about 250 from "random testing" since Aug. 7.
Though the latter has tested 1 percent of students, faculty and staff – which works out to 50 percent more people than the on-demand tests – random testing has revealed a far lower rate of positives (1.2 percent) than the former (18.1 percent).
The dashboard doesn't disclose the methodology of the tests, calling into question the accuracy of those positive results.
As The New York Times reported in late August, the risk of false positives rises as more "cycles" are required to detect the novel coronavirus, potentially identifying viral genetic fragments "that pose no particular risk."
Up to 90 percent of positive tests "carried barely any of the virus" in testing data obtained from Massachusetts, New York and Nevada that noted cycle thresholds:
One solution would be to adjust the cycle threshold used now to decide that a patient is infected. Most tests set the limit at 40, a few at 37. This means that you are positive for the coronavirus if the test process required up to 40 cycles, or 37, to detect the virus. …

Any test with a cycle threshold above 35 is too sensitive, agreed Juliet Morrison, a virologist at the University of California, Riverside. "I'm shocked that people would think that 40 could represent a positive," she said.
Read Penn State's press release bragging about punishing students for breathing.
MORE: 'This is prison': student misery and despair proliferates under COVID-19
IMAGE: Jan H Andersen/Shutterstock
Like The College Fix on Facebook / Follow us on Twitter