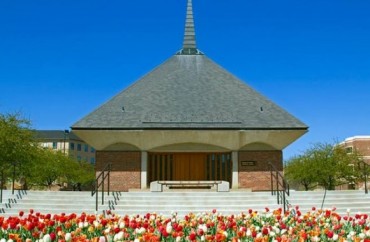 Criticism of the decision has been called 'Islamophobia'
Wooden pews were removed from Grace Memorial Chapel at Wichita State University over the summer to accommodate Muslims students who sought to kneel and pray.
Prior to the renovation, Muslim students reportedly had difficulty finding a place to pray, and even used parts of the library to that end.
Now they have space to worship, as the 2,000-square-foot chapel has been transformed into a so-called "faith-neutral space." Christian students utilize portable chairs when they use the decades-old chapel, which opened in 1963.
(At left, an image of the chapel prior to pew removal.)
The change had been prompted by a student government resolution passed during the last school year that stated its members recognized "the importance of inclusion and an interfaith prayer space and supports the renovation of the Grace Memorial Chapel into a flexible, faith neutral space …"
More recently, news of the renovation has angered alumni and others, prompting a public announcement from Wichita State University President John Bardo on Facebook to defend the decision.
"Under the terms of Mrs. Harvey D. Grace's gift to the university in her will, 'This chapel will be open to all creeds and to all races of people,'" Bardo stated. " … Our goal should be exactly what Mrs. Grace set out to do in her gift, to have an all faiths chapel that is welcoming to all religious groups on campus."
Nevertheless, the backlash has caused Bardo to say removing the pews was a "temporary" solution.
"I don't think that change was undertaken with enough consideration of the feelings of all elements of the campus and broader community, so I have asked Dr. Eric Sexton, vice president of student affairs, to develop a process for the Grace Chapel committee to hear ideas and concerns from students, faculty, staff and the community about future uses and furnishings for the chapel," Bardo stated.
Meanwhile, many students have said they don't know what the fuss is all about, the Wichita Eagle reports.
"This is Islamophobia," said Wichita State's student body president Joseph Shepard, a church-going Christian. "It's coming from off-campus, not from the students here. "They say we've taken a place of Christian worship and turned it into what they call a mosque."
Like The College Fix on Facebook / Follow us on Twitter
IMAGES: University screenshot and Facebook screenshot