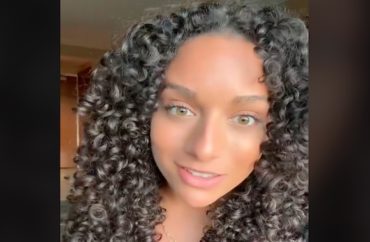 Alleged UT system is spending $6 million 'to enforce the ban' on the word.
A doctoral student and "self-proclaimed anti-racism educator" at the University of Maryland recently put out a TikTok video in which she claims professors in the University of Texas could be thrown in jail for saying "racism."
Victoria Alexander also said professors could be "punished, disciplined, fired [or] demoted," the Austin American-Statesman reports.
"If they were to bring a public speaker, like me, to campus to teach, they couldn't read my bio because it says I'm an anti-racism educator," Alexander (pictured) says in the video. The clip had more than 379,000 views and 94,000 likes as of March 1.
Alexander additionally claimed there is a "hotline" at UT where folks can report professors who say "racism," and that UT is spending $6 million "to enforce the ban" on the word.
But all of Alexander's claims are "bogus on all counts," according UT spokesperson Catherine Frazier.
Alexander claimed she obtained the word ban information from a meeting with a "University of Texas System" professor, but Frazier said there are no employees working directly for the UT System as professors. Instead, professors work for individual institutions within the UT System, such as the University of Texas at Austin or the University of Texas at El Paso.

Last week, Kevin Eltife, UT System Board of Regents chairman, did announce the UT System was pausing any new diversity, equity and inclusion policies at all of its campuses, but the brief announcement did not mention a ban on the word racism, the establishment of a hotline or any reference to spending $6 million to enforce a supposed ban. …

While Alexander refers to the UT System throughout the TikTok, she published the video in response to a comment referencing a Florida state law known as the "STOP Woke Act," which enacts limits on discussion around race and gender in classrooms.
According to her Linkedin profile, Alexander is a "third-generation educator focused on racial justice" whose work "centers anti-racist pedagogy, critical consciousness building, and the liberation of Black people and other people of color."
A workshop listed on Alexander's personal website is called "A Little Black Book On Confronting Anti-Blackness." It claims attendees will "increase their levels of awareness of deeply internalized anti-Black bias" and "be empowered to identify, challenge, and change implicit and explicit cultures of anti-Black bias within the selves, their organization, and their community."
MORE: TikTok psychic sued by University of Idaho professor for murder accusations
IMAGE: Victoria Alexander/TikTok screencap
Like The College Fix on Facebook / Follow us on Twitter