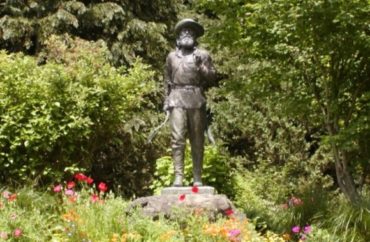 100-year-old University of Oregon statue draws controversy 
In celebration of Oregon's roots in pioneering, a statue of a pioneer, known simply as "The Pioneer," was erected a century ago at the University of Oregon. And now, as the 100-year anniversary of the statue arrives, some in the campus community demand it be removed.
The Pioneer was the focus of a recent protest, at which dozens of students and faculty and others called for its removal and circulated a petition demanding as much, NPR Oregon reported.
Some of the protesters held signs stating things such as "whose history does UO honor" and "Who is the pioneer? It was evident that killing 'Injuns' was not a very unnatural happening."
Some see the statue as a celebration of colonialism.
"A monument is a celebration. … So, to me, it feels very similar to the confederate monuments that speckled a large part of the rest of the country," history doctoral candidate Marc Carpenter, who researched the statue's history, recently told the Daily Emerald.
"It's a monument to violence and white supremacy, and I don't think those are values that we want to have as a community," he said.
He echoed those sentiments in a recent statement to The College Fix. He said he believes that the statue should be removed from campus due to "the values it depicts."
"'The Pioneer' is a monument to violent white supremacy, and as such it should not have a place of honor at a university striving to be inclusive, diverse, and just," he said.
One of the problems with the statue is apparently his weapons.
"The statue was vandalized last month with red paint sprayed onto its crotch and whip in its right hand and googly eyes were placed over the statue's eyes," the Emerald reported in late May.
But the statue itself isn't the only problem.
The statue, a gift to the university, was dedicated in May of 1919. At the dedication ceremony, the president of the Oregon Historical Society gave a speech which "extolled the virtues of the Anglo-Saxon race," according to two UO historians.
Anglo-Saxons believe "in the protection of life and of liberty and in the rights of property and the pursuit of happiness," the president reportedly said. "This race has large powers of assimilation, and its great ideas of liberty and of the rights of mankind caused other races to become a part of it, so it became a people as well as a race."
The College Fix reached out to the administration at the University of Oregon, but they did not respond in time for publication.
But UO interim spokesperson Molly Blancett gave a statement in late May to NPR Oregon in response to the protest, noting a committee has been launched to review all campus artwork.
The statement read:
"The Pioneer statue was unveiled 100 years ago to represent Oregon's first European settlers. A century later, a more inclusive view of history recognizes that The Pioneer symbolizes just one part of the story. The UO fully appreciates that to many Oregonians, including those of Native American ancestry, it stands for something very different, the framing of history from only one culture's perspective. We take those views very seriously.

Last winter, the UO established a presidential working group – led by Dean of Libraries Adriene Lim and Professor Dean Livelybrooks – to audit and review campus monuments, plaques and public art installations and recommend whether any changes need to be made to those features to recognize the diverse histories of our community. The Pioneer statue is part of that review, and the working group hopes to deliver a report, including recommendations, next fall. We are happy to share any research and information from outside organizations with that working group."
MORE: CSULB ditches 'Prospector Pete' mascot because 'racism, genocide'
IMAGE: University of Oregon
Like The College Fix on Facebook / Follow us on Twitter