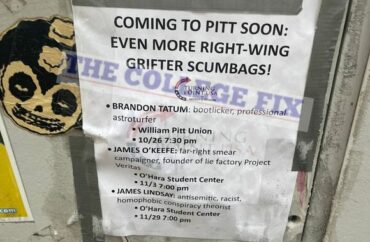 A flyer obtained by The College Fix refers to the upcoming speakers as 'right-wing grifter scumbags'
The Turning Point USA chapter at the University of Pittsburgh recently received $25,000 in funding to host speakers, even while it battles against campus leadership.
The Student Government Board allocated $25,000 of a requested $25,397 grant during a recent meeting.
Lili Orozco, president of Pitt's TPUSA chapter, told The College Fix she was surprised that the SGB approved her chapter's funding request, as the same body "was putting out statements celebrating that they did not fund our events" last year.
The $25,000 in funding will cover the costs of bringing James O'Keefe to campus for an event titled "Exposing Corruption." O'Keefe is an investigative journalist known for founding both Project Veritas and the O'Keefe Media Group.
Last year her group hosted Cabot Phillips of The Daily Wire and Riley Gaines, a former collegiate swimmer who speaks out against transgender athletes competing in women's sports.
In response, Pitt's SGB released a statement condemning TPUSA for hosting Phillips and Gaines, referring to them as "anti-trans" and accusing them of "promot[ing] exclusion and hate."
A petition was also created to cancel the "transphobic" speakers. To this date, over 12,000 people signed the petition in aims of preventing the speakers from coming to campus.
Violence also erupted on campus last year after the Institute for Collegiate Studies and the Pitt College Republicans hosted Michael Knowles of The Daily Wire for a debate on transgenderism. A married couple faces federal charges for setting off smoke bombs outside of the event.
The event ended earlier after Pitt security failed to stop protesters from shutting down the debate between Knowles and Brad Polumbo, a libertarian commentator who opposes efforts to regulate transgenderism.
"I am happy that SGB is funding our event and not picking sides," Orozco said. "That's how a student government board should be."
MORE: Pro-life student group wins official status after two-year battle
The SGB did not respond to two College Fix requests for comment sent in the past two weeks that asked for information on the funding decision.
Orozco shared doubts regarding the reasoning for the student board's funding decision. "I do feel like they might feel obligated to fund us for our speakers, since we are making a stance on the conservative movement at Pitt and showing everyone at school and around the community that conservatives are here to stay."
When asked if she expects backlash around the O'Keefe event, Orozco revealed that it has already begun.
A photo of flyers lists three events planned by TPUSA, though one has yet to be confirmed.
"Even more right-wing grifter scumbags," the flyer headlines.
The speakers listed on the flyer include Brandon Tatum, O'Keefe, and wokeness critic James Lindsay, who is an unconfirmed speaker.
Brandon Tatum is a former police officer and co-founder of Blexit, a "non-profit organization dedicated to the advancement of the youth of urban and minority communities."
However, the circulating flyer refers to him as a "bootlicker" and a "professional astroturfer." This event is set to take place on October 26.
A flyer criticizing O'Keefe called him a "far-right smear campaigner, founder of lie factory Project Veritas."
The last event, an event that has yet to be confirmed according to the chapter's president, is James Lindsay. The flyer mistakenly writes that Lindsay will be on campus at the end of November, describing him as an "[antisemitic], racist, homophobic conspiracy theorist."
Orozco believes there is a mole within the chapter that is feeding information to outsiders, but it is unclear who the alleged mole is.
Lindsay provide a succinct criticism of the flyers directed at him.
"The people who made them are insane," Lindsay told The Fix via social media messaging.
MORE: Professors champion Palestinian 'decolonization'
IMAGE: The College Fix
Like The College Fix on Facebook / Follow us on Twitter