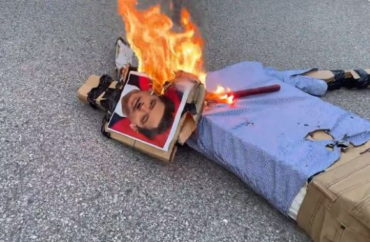 A debate at the University of Pittsburgh between Daily Wire commentator Michael Knowles and Brad Palumbo from BASEDPolitics on transgenderism drew a major protest outside the venue, with an image of Knowles with a Hitler mustache drawn on him burned in effigy and smoke bombs set off.
Demonstrators also chanted "shut down Michael Knowles" and other slogans accusing him of hate speech.
At one point an "incendiary device" was thrown toward officers and detonated outside the venue during the debate, prompting University of Pittsburgh police to sent out an emergency notification alert.
The message told students to avoid the area and shut down the dorms as a precaution, according to a statement from police.
The protesters at @michaeljknowles debate at Pitt set the street on fire pic.twitter.com/cKbqmmgOlC

— Daily Wire (@realDailyWire) April 18, 2023
From https://t.co/Wg0aMqsgSz: pic.twitter.com/MeXqYlAlOs

— University of Pittsburgh (@PittTweet) April 19, 2023
Chanting and drumming protesters also blocked the entrance to O'Hara Student Center, a video of the demonstration shows.
About 250 people are protesting outside O'Hara Ballroom ahead of a debate with Michael Knowles scheduled to start at 7:30 p.m. pic.twitter.com/Q6bhxPLnO3

— The Pitt News (@ThePittNews) April 18, 2023
Effigy of Michael Knowles with a Hitler mustache is burned outside of his scheduled appearance at University of Pittsburgh pic.twitter.com/4on3Zq34Kk

— Timcast News (@TimcastNews) April 18, 2023
Protesters are blocking the entrance to O'Hara Student Center where Michael Knowles is rumored to be speaking. Current scene in Oakland @TribLIVE pic.twitter.com/txpl7pCwfo

— Shane Dunlap (@shanedunlap) April 19, 2023
Prior to the protest, the trans scholar who originally had agreed to debate Knowles had backed out.
Intercollegiate Studies Institute, which hosted the debate along with the College Republicans, sent a note to its supporters on Tuesday morning stating the price of free speech on campus in this instance was "$20,307.48."
"That's how much we spent on added security for tonight's debate at the University of Pittsburgh on transgenderism," ISI stated. "Threats of protest, cancelation, and even worse forced us to spend an extra $20,307.48 on twenty-eight police officers, private security for the speakers, and bodyguards for ISI staff in attendance."
"That's the price you must pay today to ask a very simple question—should transgenderism be regulated by law?"
In addition to the Pittsburgh melee, an upcoming speech at James Madison University by conservative pundit Liz Wheeler titled "The Ideology of Transgenderism" also received massive backlash on social media this week, with vulgar and explicit comments denouncing the event and one commenter even telling her to commit suicide.
Wheeler was told "kill yourself" in one response to her tweet on her upcoming talk, to be hosted by the school's Young Americans for Freedom chapter.
On Instagram, replies included "f*ck this sh*t," "this is disgusting," and "stupid. stupid. stupid."
The Breeze, James Madison University's student newspaper, described the wave of comments as an "onslaught."
"Many students commented on the post condemning Wheeler and the event, with several tagging JMU and Tim Miller, the vice president for student affairs. Several comments said JMU shouldn't host Wheeler and mentioned protesting the event. As of around 11:00 p.m., the post announcing Wheeler's topic on YAF's Instagram has roughly 1,230 comments," The Breeze reported April 17.
The event had already prompted a meeting with Miller and some concerned students, and a protest is also expected, The Breeze reported.
The backlash against the events is no outlier. A planned talk by Matt Walsh at the University of Iowa on "What is a Woman?" also caused major controversy.
As The College Fix reported last week, the University of Iowa YAF chapter set to host Walsh has been the center of campus controversy for the last six weeks, with its members being doxxed, harassed, threatened — and even infiltrated by left-wing students seeking to disrupt their event.
The event takes place today at the University of Iowa.
MORE: Purdue LGBT activists: Michael Knowles wants 'genocide' of 'Trans People'
IMAGE: social media screenshots
Like The College Fix on Facebook / Follow us on Twitter