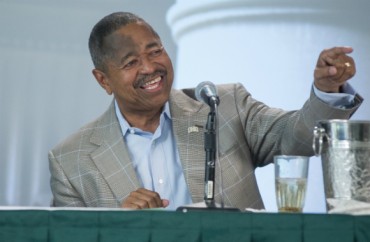 Batty house leads to batty strategy
If you want to silence debate on a controversial issue, call your opponents racists.
That was the advice given to administrators by Steven Schoonover, a major Ohio University donor and trustee of the OU Foundation, on how to respond to critics of the school's spending choices. President Roderick McDavis is black.
The school has been fighting for months with faculty and students over its pricey "lease-purchase" of an off-campus home for McDavis and future presidents.
The deal was allegedly struck because McDavis's wife "broke her foot while dodging a bat" in their campus house, The Athens News reported.
And now Schoonover's advice, which he claimed was "tongue-in-cheek," has led to student demands that he resign from the foundation, which raises money for the school, and that OU remove his name from campus buildings.
Treat 'em like Democrats treat Republicans
Schoonover's April 2 email to administrators and foundation members, obtained in a records request by The Post, a student-run newspaper, suggested they accuse faculty critics of the $1.2 million Coventry Lane deal of racism.
It's a charge that has precedent. As The College Fix reported in April, doctored images of McDavis and his wife that allegedly "animalized" them as black people were posted to a student-run Facebook page for a rally against the Coventry Lane deal.
"I think we should handle it [faculty criticism] the same way the Democrats do every time Republicans attack President Obama," Schoonover wrote in an email thread about a foundation executive committee conference call, posted in full by the News.
"They label them racists. So if you are worried about the petition by the faculty just play the race card and call them racists and make them defend themselves! They pull that in Washington everyday!"
Schoonover's underlying point was the housing deal was needed to attract high-quality presidents to small-town Athens. McDavis has raised "many dozens of times the cost of that residence," Schoonover wrote.
The house is owned by a frequent donor to the university's athletics programs, the News reported.
The foundation must fight back against "a bunch of loudmouths and demonstrators who have probably never given a dime to OU and a bunch of newspaper reportersand [sic] university professors who have no idea or don't care" how to recruit presidents, Schoonover wrote.
After making his "racist" suggestion, Schoonover wrote: "Seriously we have to stand up for what is right," the Coventry Lane deal. Trustee Charles Beck wrote in reply: "I heartily second his emotion!"
In response to the disclosed email thread, the dean of OU's communication school – whose building was paid for by Schoonover's 2008 donation – emailed his faculty to reassure them that the "race card" sentiment was "not consistent with the values we maintain as a College."
"The most important thing we can do as educators is to promote robust debate while also recognizing the necessity of civility in promoting shared meaning in any type of dialogue," Dean Scott Titsworth wrote, according to The Post.
Schoonover, an OU alum and founder of the wireless telecom company CellXion, told the News that his "race card" suggestion was "a 'tongue-in-cheek' comment which absolutely no one who knew me took seriously."
University spokeswoman Bethany Venable told The Fix in an email: "Mr. Schoonover made his remarks to express his personal opinion on the matter." Schoonover did not respond to a Fix request for comment.
How about fixing the buildings on campus first?
The faculty opposition to the Coventry Lane deal was formalized in a March 25 op-ed in The Post signed by 83 faculty, who said campus infrastructure was crumbling while the allegedly bat-filled president's house was well-maintained.
Joseph McLaughlin, an associate professor of English who co-wrote the faculty op-ed, told The Post Schoonover's statements were "deeply offensive."
"It is highly problematic that such an individual occupies a position of responsibility with the OU Foundation," McLaughlin said, noting Schoonover's wealth. It was "disconcerting, though predictable," that the trustee "suggested the administration spin [faculty opposition] as a personal attack."
The Ohio University Student Union – a progressive political group that was implicated in the doctored images of McDavis and his wife – is circulating a petition asking for the resignation of Schoonover and two other trustees it claims agree with his "race card" comment.
The wide-ranging petition also demands Schoonover's name be removed from all campus buildings, that the school identify all donors, and that it repeal its authority to create "affiliated entities" that can hide administrators' actions from the public.
OU's African Student Union, Black Student Union, and historically black Phi Beta Sigma chapter did not respond to Fix requests for comment on Schoonover's remarks.
Schoonover's suggestion "was the completely unethical way of dealing with his critics instead of actually addressing the issue," Ryan Powers, a Student Union member, told The Post.
Ryant Taylor, a recent grad who participated in the Student Union's March protest, told the News that not just Schoonover but administrators who "overlooked his remarks" should be canned.
As a black student, "I find his light-hearted attempt to de-legitimize institutional racism and use it as chess move to save his backside disgusting when many students of color worked diligently to have race be a meaningful conversation and point of action this past year," Taylor said.
The "race card" brouhaha caps off a controversial academic year for Ohio University, which started with the student senate president's "Blood Bucket Challenge" against Israel and subsequent arrest of her critics at a senate meeting.
Like The College Fix on Facebook / Follow us on Twitter
RELATED: Whiny student official plays the race card because of incorrect photo caption
RELATED: Anti-parody student candidate allowed racist photos on Facebook campaign page
RELATED: More proof that student politicians can't handle a joke, Ohio University edition
RELATED: Pro-Israel Students Arrested at Ohio University for Standing Up to BDS-ers
RELATED: Ohio University student website interviews 'The College Fix' about its reporting
IMAGES: Ohio University Libraries/Flickr, The Post screenshot
Like The College Fix on Facebook / Follow us on Twitter