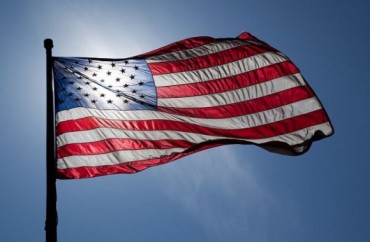 After Hillsborough Community College's Institutional Advisory Council voted to stop saying the Pledge of Allegiance at its meetings, public outcry forced them to reconsider – and ultimately reverse – their decision.
College President Ken Atwater last week called a special session of the council, during which he asked members to rescind their vote. They did.
"I am pleased that the executive council of the IAC recognized that this action did not represent the principles that are valued by our college community," Atwater stated in a news release on the school's website. "They resolved the issue in a swift and decisive manner and can now move forward continuing to serve their campuses and this college in a positive manner."
Though members of the advisory council allege the idea of removing the pledge was motivated by a desire to save time, meeting minutes display alternative motives.
During its Sept. 4 meeting, the council voted to ban the Pledge of Allegiance at all future meetings, questioning its "appropriateness in an institution of higher learning which fosters academic freedom and structured dissent against authority," according to the meeting minutes.
RELATED: Student leaders at UC Irvine veto decision to ban American flag
The minutes also detailed that "the Pledge made some people uncomfortable and violated their beliefs in academic freedom and the goals of the IAC."
But advisory Council Chair Susan Gibbons disputed the accuracy of the minutes in a press release, claiming "the Pledge was removed through a democratic process, and the terms 'academic freedom' and 'structure dissent against authority' were never discussed in the September meeting."
Meanwhile, major networks such as Fox News picked up the story, placing the small Florida community college on a national stage. Many students and others voiced disappointment and concern over the decision.
"To be honest, the 12, 15 seconds it takes to say the Pledge of Allegiance is an insignificant amount of time," student Scott Vosler told Fox and Friends. "I don't believe that an organization that is actually being funded by taxpayer dollars should be stating the case that there's academic disruption, or anything of that matter."
Veteran and student Brad Richlin told a Florida NBC affiliate that "well I'd like to know who paid the price for that academic freedom and what was that price? To me as a veteran that price was blood, that price was paid in blood for that academic freedom."
Hillsborough's public relations department received the brunt of the criticism after the story went viral.
"I've heard from people all of the country, certainly our constituents, our students, our staff, families that we serve, taxpayers, and they were very disappointed that this action would take place at this college that's supported by taxpayers," stated Ashley Carl, the college's director of public relations.
Like The College Fix on Facebook / Follow us on Twitter