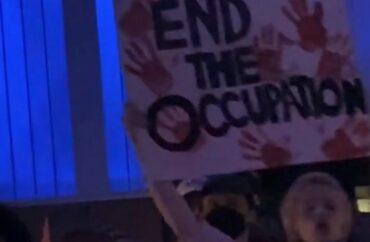 'Long live the Intifada,' protesters yelled. 'When people are occupied, resistance is justified.'
Jewish students at Arizona State University left a student government event under university police supervision after pro-Palestinian protesters shouted and threw rocks at their meeting from outside.
The students had gathered to debate proposed Boycott, Divestment, Sanctions student government legislation against Israel, according to The State Press, ASU's independent student-run publication.
Representatives of ASU's five Jewish student organizations argued against boycotting Israeli institutions, while members of the school chapter of Students for Justice in Palestine demanded support.
The meeting ended early after protesters at a pro-Palestine rally threw rocks at the second-floor window of the hall where the students had gathered.
"Members of SJP left the room, and the session abruptly adjourned because of Jewish students' and senate members' safety concerns," The State Press reported.
The ASU campus police department posted Wednesday to X that "ASUPD is actively investigating the disruption of the ASU Student Government meeting last night."
"The incident is being reviewed for possible disorderly conduct/criminal damage charges," the department wrote. "No arrests have been made at this time."
Neither The State Press nor the ASU police specified whether the protesters were ASU students.
AZ Advisors President Avraham Ber posted Wednesday on X that "close to 20 Jewish students at @ASU had to leave a campus building thru a back door with a police escort together with their @Chabad Rabbi Shmuel Teichtel to return to the Chabad House for safety after a[n] Antisemitic incident."
"Students speak on the video as they walk with the police escort that they do not feel safe on campus as the meeting ended abruptly with acts of violence," Ber wrote.
Protesters also ended the meeting with "death threats," he wrote.
ASU Jewish student organization @chabadasu recorded a video of several Jewish students leaving the meeting with Rabbi Teichtel on Instagram Live.
"We don't feel safe on this campus," one student said in the video.
"We are okay now boruch Hashem," @chabadasu wrote in an update to the post. "We are very disturbed by what happened and the clear anti-Semitism and rocks thrown at the windows where the meeting was held. We are thankful to ASU police for their protection [at] this event once again."
ASU President Michael Crow posted Wednesday on X that "@ASUPolice is investigating last night's disruption of a USG meeting on the Tempe campus."
"Let it be clear that ASU will not tolerate acts of intimidation or violence," Crow wrote.
An Instagram video posted Tuesday night by ASU's Students for Justice in Palestine showed students packed into the meeting hall, with some wearing keffiyehs and holding pro-Palestine signs while others donned Israeli flags.
Two pro-Palestinian signs shown read "Intifada Until Victory" and "Palestinian Liberation is Women's Liberation."
Just following the meeting's interruption by protesters, students in the room are shown shouting "We will not be silenced" and "Free, free Palestine," according to the video.
They exit the building and join a large chanting crowd of protesters shouting "Free, free Palestine," led by a woman shouting into a megaphone.
"From the sea to the river, Palestine will live forever," they shouted, as shown in the video. "From the river to the sea, Palestine will be free."
"F**k ASU," they said. "Long live the Intifada…When people are occupied, resistance is justified."
ASU SJP President Finn Howe told The State Press that his organization has been working with undergraduate student government Senator Samuel Ndinjiakat Jr. to draft pro-BDS legislation over the few weeks leading up the meeting.
The legislation itself could not be presented to the student government meeting because of "procedural policy," Howe told the paper.
Howe told the paper that SJC is "completely against antisemitism" and has " a long history of standing beside Jewish students."
"It is not about Judaism versus Islam," he said. "It's about standing up against genocide."
Ben Griffith, an ASU senior and member of the campus Hillel, told the outlet that  "the proposed BDS resolution is "incredibly antisemitic."
At the meeting, Jewish student organizations collaborated to "get as many Jewish students involved and together to show that we are proud of our Judaism and want to feel safe on campus," Griffith said.
MORE: Harvard graduate student union endorses anti-Israel BDS movement
IMAGE: Instagram/@sjpasu
Like The College Fix on Facebook / Follow us on Twitter