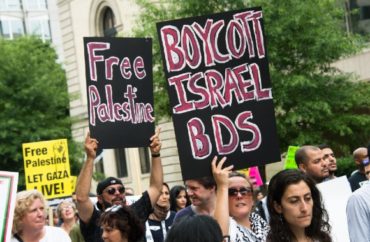 Union also issued a statement denouncing doxxing of pro-Palestinian activists
Amid the ongoing Israel-Hamas war, more than 60 percent of Harvard University's graduate student union voted Friday to endorse statements endorsing the Boycott, Divestment, Sanctions movement against Israel.
Approximately 64 percent of about 600 union members voted Friday in support of a BDS statement from some rank-and-file members of the United Auto Workers, the national union to which the Harvard Graduate Student Union belongs, The Harvard Crimson reported Monday.
The BDS movement promotes withdrawing business from companies, groups and institutions with ties to Israel.
The statement demands the end of "occupation and colonization of all Arab lands" and has not been adopted by the UAW, according to The Crimson. 
The turnout for the vote was the largest in the union's history, excepting votes pertaining to contracts.
At the same meeting, approximately 69 percent of the Harvard Graduate Student Union voted in support of a second statement from the United Electrical, Radio and Machine Workers of America that called for an Israel-Hamas ceasefire in Gaza.
The union also issued a statement denouncing doxxing attacks on alleged pro-Palestinian activists, but faced backlash for deciding not to include an amendment condemning antisemitism and acknowledging Jewish students' safety concerns.
Graduate Student Union trustee Max Ehrenfreund said he rejected the amendment only because it didn't pertain to the doxxing. He told The Crimson another statement condemning antisemitism is being reviewed by the union.
"It's not really appropriate to discuss other kinds of questions when we're concentrating on one issue that we all recognize is somewhat separate from broader questions about the conflict," Ehrenfreund told The Crimson.
However, HGSU-UAW member Ari Ne'eman told The Crimson the failure to endorse the amendment constituted "a serious breach of trust."
"It doesn't make any sense to me, it doesn't make sense to anyone at least that I've spoken to why we would condemn one but not the other," he said.
Following the Hamas invasion on Oct. 7, dozens of Harvard organizations signed a joint statement holding the Israeli government "entirely responsible for all unfolding violence," The College Fix reported at the time.
Over the past few weeks, Harvard University has drawn fierce backlash from wealthy donors disgruntled by how the schools responded to Hamas' slaughter and kidnapping of Israeli civilians, The Fix reported Oct. 23.
Billionaire Harvard donor Bill Ackman demanded the school release the names of students involved in the statement so that CEOs would not "inadvertently" hire them.
Although Harvard later released a statement condemning the Hamas attacks and distancing itself from the students' statement, a billionaire Israeli couple, Idan and Batia Ofer, protested by stepping down from the executive board of Harvard's Kennedy School of Government.
MORE: Anthropologists vote yes on BDS-influenced Israel academic boycott
IMAGE: Ryan Rodrick Beiler/Shutterstock
Like The College Fix on Facebook / Follow us on Twitter