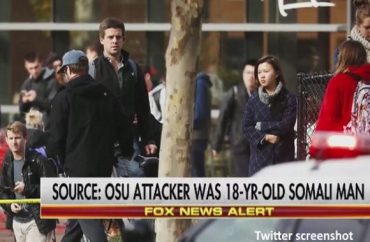 The person responsible for a car-and-knife attack rampage at Ohio State University today that left nearly a dozen hospitalized is an 18-year-old student, Somali refugee, and lawful permanent resident of the U.S., according to NBC News citing unnamed police sources.
NBC News reports:
Law enforcement officials told NBC News the suspect's name is Abdul Artan, an 18-year-old student at the university. He was a Somali refugee who left his homeland with his family in 2007, lived in Pakistan and then came to the United States in 2014 as a legal permanent resident of the United States, officials said.

The motive was unknown, but officials said the attack was clearly deliberate and may have been planned in advance.

"This was done on purpose," [OSU Police Chief Craig] Stone said.
The Chronicle of Higher Education reports that Kimberley Jacobs, Columbus chief of police, said officers believe there was only one person involved in the attack, and that it was carried out intentionally.
"She also said that officers would 'consider the potential' that the incident was a terrorist attack and that state and federal investigators would look into the suspect's communications," the Chronicle reports.
When the attack first took place, Ohio State was placed on lockdown as early reports of an "active shooter" spread and university officials tweeted out "Run Hide Fight."
What really took place was the suspect plowed into people with his car before attacking others with a knife, The Columbus Dispatch reports.
"Less than a minute after the attack, an OSU police officer shot and killed the suspect. Despite rumors of a second suspect, police and campus officials say there was one person involved in the attack," the Dispatch reports.
The FBI has been brought in on the investigation and they are looking to any possible terrorist ties, reports Fox News.
Breaking News:Ohio State University attacker was an 18-year-old Somali refugee who was living in the U.S. as a legal permanent resident pic.twitter.com/KpGGiDj3Pr

— Fox News (@FoxNews) November 28, 2016
MORE: UC Merced mourns stabbing spree attacker Faisal Mohammad, seeks to understand him
Like The College Fix on Facebook / Follow us on Twitter