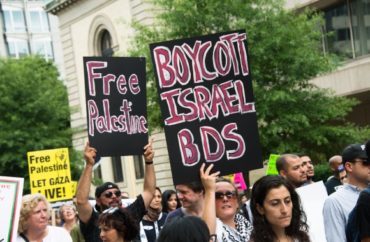 Pomona College's student government has unanimously voted in favor of a resolution to ban student government funds from companies that support Israel.
According to the bill, students also plan to defund student groups that do not comply, which would include mainstream Jewish organizations Hillel and Chabad.
The resolution stops student government "spending on items that knowingly support the Israeli occupation of Palestine."
The Associated Students of Pomona College resolution states that the student government "will change its internal spending habits" when it comes to its campus stores and budgets.
The student government operates a coffee shop and manages a $200,000 budget.
Included on the list of banned companies, according to the Claremont Independent, is Airbnb and TripAdvisor.
In response to the bill's unanimous passing, the bill's sponsor, Claremont's Students for Justice in Palestine, released a message on Instagram celebrating the "important victory at Pomona College" and the "strong precedent" it sets.
The group described it as "standing up against our colleges' complicity in supporting … the state of Israel."
But many Jewish students at Pomona College are outraged.
Janie Marcus, the president of Claremont Progressive Israel Alliance, released a statement denouncing the vote.
"With the passage of this resolution, ASPC has institutionalized a campus-wide ban on the free exchange and purchase of goods and services. Moreover, ASPC has particularized and singled out a specific demographic for its discriminatory policy," Marcus stated.
"Not only does this resolution hinder the general student population's ability to make buying choices of their own volition, but it also sets its eyes on penalizing a particular constituency of students and student groups that provide space for Jewish and Israeli students," she added.
Marcus said the Claremont Progressive Israel Alliance has no plans to comply with the "discriminatory resolution."
Pomona College President Gabrielle Starr also condemned the bill's passing, imploring students to "reverse course" and "allow for full discussion."
The resolution states the end goal is an "ultimate adoption of a Consortium-wide agreement to ban clubs from using student government allocations to invest in or purchase goods or services from companies that contribute to the settlement and occupation of Palestinian occupied territories by the UN-designated companies or the Israeli state."
The consortium includes Claremont McKenna, Scripps, Harvey Mudd and Pitzer colleges.
"Clubs that fail to divest and/or refrain from such uses of funding would face the loss of all Claremont Colleges Student Government Association funds," the resolution states.
This would put many Jewish groups such as Hillel and Chabad at risk of losing significant funding.
Denouncing this, Starr stated that "the resolution's stated goal of eventually enacting requirements that all student clubs supported by ASPC — not just ASPC itself — comply with its divestment stance or lose funding" is of "deep concern" as it would require "all students, regardless of their views, to participate in a boycott."
But Starr's statement did not say anything about not allowing this resolution to take effect.
The decision to boycott Israel comes in the wake of several anti-Semitic incidents occurring at Pomona College. In February 2020, the David Horowitz Freedom Center vowed to sue Pomona College for violating the rights of Jewish students on campus.
MORE: Claiming 'pervasive, college-sponsored anti-Semitism,' Horowitz preps lawsuit against Pitzer, Pomona
IMAGE: Ryan Rodrick Beiler / Shutterstock
Like The College Fix on Facebook / Follow us on Twitter