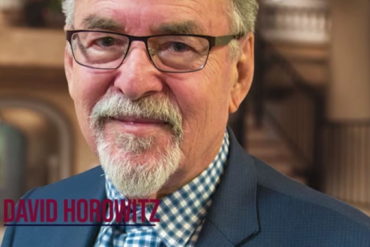 Pomona and Pitzer college leaders are facing the threat of litigation over alleged anti-Semitism at their schools.
An attorney for the David Horowitz Freedom Center sent the private institutions a 5-page demand letter on Feb. 3 alleging a history of anti-Semitism at the two colleges and demanding it come to a stop. The letter accuses campus officials of "ambivalence toward — and even support and funding of — anti-Semitic hate group events and activities" in violation of Title VI.
Now, weeks later, the center has only received a brief, cursory denial of the accusations from Pitzer College and no response from Pomona College, according to David Horowitz in a statement provided via email to The College Fix.
"The Claremont Colleges have made it clear that they refuse to address their funding and support of anti-Semitism on campus and that they are unwilling to take steps to remedy this illegal discrimination. Therefore we are planning a lawsuit against them," Horowitz stated.
The legal demand letter had noted the accusations of anti-Semitism are serious given President Donald Trump's recent Executive Order, signed December 2019, that clarified that federal laws protect against discrimination of Jewish people. Trump, in signing the order, warned colleges and universities could lose federal funding if they ignore anti-Semitism on campus.
Trump signs executive order to combat anti-Semitism on college campuses
Horowitz's letter accuses the two colleges of promoting BDS, "the Boycott, Divestment and Sanctions Campaign against Israel on American campuses." It also alleges violent threats against a Jewish leader on campus, eviction notices targeted at Jewish students, chants against the Jewish community on campus, and the theft of a prayer box from a Jewish student's dorm room.
The letter also claims "discriminatory exclusion of Jewish students from voting against BDS as a result of a vote by the Pitzer College Student Senate deliberately scheduled for the Jewish holiday of Passover" and "a vote by the Pitzer College Council, a governing body consisting of students, faculty and staff, to impose the Hamas-funded and anti-Semitic BDS movement on the College by suspending the study abroad program at the University of Haifa in Israel."
[Both actions were eventually resolved by college leaders.]
College Council votes to end school's program in Israel; college's president vetoes it
The letter also cites an incident sponsored by the colleges in November 2019 during which a pro-Palestine filmmaker called a Jewish student journalist a "white nationalist" at the college-sponsored event.
Pro-Palestine filmmaker calls Jewish student journalist 'white nationalist' at college-sponsored event
Patricia Vest, associate director of news and strategic content at Pomona College, said in an email to The College Fix, "We condemn anti-Semitism, we strongly dispute the letter's portrayal of our campus and we are deeply committed to encouraging the open exchange of ideas with respect for all."
"The college upholds free speech, academic freedom and open dialogue," Vest added. "We aim to foster an atmosphere of respect for all members of our community and we seek a diversity of viewpoints."
Pitzer, in a statement to the Claremont Independent, offered similar sentiments.
"Pitzer College condemns anti-Semitism. Pitzer encourages the open exchange of ideas, protects the rights of all individuals in pursuit of their education and is committed to the exercise of inquiry, free speech and academic freedom."
Horowitz stated to The College Fix the two colleges' responses provide "zero evidence of any effort to curb the malicious Jew hatred that has inundated their schools. Meanwhile, the Colleges continue to fund and provide campus privileges to a terrorist-funded and terror-supporting organization, Students for Justice in Palestine, whose sole purpose is to spread Jew hatred on campus."
"…The Claremont Colleges are funding anti-Semitism and providing campus privileges to Jew-haters who spread genocidal lies about Jews and Israel. Yet when we have attempted to confront the Colleges about these actions, they respond with platitudes and falsely deny any responsibility or wrongdoing. For these reasons, a lawsuit is merited."
Horowitz's attorney is Harmeet Dhillon, vice president of the Republican National Lawyers Association and a contributor to Fox News.
The two colleges targeted by Horowitz are part of the Claremont consortium, a cluster of five private colleges in Southern California consisting of Pomona, Scripps, Claremont McKenna, Harvey Mudd and Pitzer colleges.
MORE: Pitzer College faculty vote to suspend school's study abroad program in Israel
IMAGE: YouTube screenshot
Like The College Fix on Facebook / Follow us on Twitter