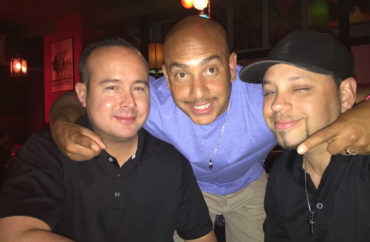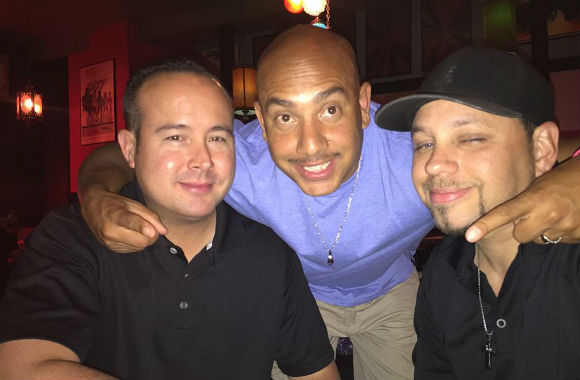 Second-guessing grand jury
PORTLAND, Oregon – Three years after Portland State University started hiring sworn, armed officers for its campus police force, a deadly shooting on the downtown campus has thrown the future of armed police into doubt.
Flyers litter campus with calls to disarm campus police, picking up the mantle of the #DisarmPSU campaign that disrupted freshmen convocation in 2015. A black billboard outside the PSU Urban Center says the same.
The activism follows a grand jury's decision last week not to indict PSU officers James Dewey and Shawn McKenzie, who shot and killed 45-year-old Jason Washington (middle, above) outside a campus bar in late June. It was the university's first fatal shooting since campus police were armed.
Most of the activism since the no-indictment seems to have come from off-campus groups. Nevertheless, President Rahmat Shoureshi – who has only been on the job for a year – made clear that his administration is rethinking his predecessor's decision to arm police.
The same day the no-indictment came down, Shoureshi told the community that the university is commissioning an external investigation to second-guess the grand jury's decision. It commissioned a different consulting firm to review whether PSU police should remain armed.
The sequence of events that led by Washington's death appears to have been mischaracterized in media reports, according to a review of newly released bodycam footage by The College Fix.
Extended arm, black object in hand
The Navy veteran, postal worker and father of three was out drinking with friend and fellow veteran Jeremy Wilkinson at The Cheerful Tortoise when Wilkinson got in a fight with a man who accused him of using a racial slur.
Armed PSU police arrived in the middle of the fight. Washington tried to protect Wilkinson from the other man's friends, according to The Oregonian.
After Washington was shot and killed, Wilkinson told an officer in a police cruiser that he had given his gun to Washington before the fight because he "did not want to make a poor decision."
(Washington held a valid concealed handgun license.)
Citing bodycam footage released last week, The Oregonian said Washington "appears to be walking away from the officers" when they warned him they will shoot if he doesn't stop. Both officers then fired on Washington.
Washington did not actually walk away from the officers, however, according to The Fix's review. He walked to the side and was holding his hand up when police told him to put down the gun and then shot him.
The footage also shows that at the moment police arrived at the scene, a man was pointing in the direction of Washington and repeatedly saying "he pulled a gun." It appears Washington was trying to break up the fight between two drunk people.
When campus police tried to intervene, telling the group of men to back up, Washington tumbled over onto his back. The officer who told Washington to back up then said "he has a gun!" The officers ordered Washington to put the gun down.
In a still pulled from bodycam footage by The Oregonian, sharpened and brightened by The Fix (below), something appears that can hardly be seen in the first of the two bodycam videos. Washington's arm is extended and a black object is in his hand, though it has not been confirmed as a firearm. It was less than a second before he was shot.
From the group behind 'is your white fragility showing?'
Just as the fall term began, yellow flyers (left) were scattered across campus with a call to action in the wake of the grand jury decision. They urged students to protest at a polite "forum" at the PSU Chit Chat Cafe next week.
The group spearheading this protest is not led by students or even young people. The Portland Gray Panthers is "a gathering of mostly older activists who welcome people of all ages to join us in our work for human liberation and social justice," according to its directory listing on the Portland Alliance, which bills itself "the city's oldest alternative progressive newspaper."
Across from the PSU Plaza and near the university gym is a billboard in black with red text, "Disarm PSU" (below). It's the work of the PDX Billboard Project, better known as Portland Equity in Action, a "community action group comprised of individuals with a range of professional skills and resources, dedicated to building racial equity in Portland."
The benign name belies the group's history of controversial billboards. This spring it posted a billboard that asked the heavily Caucasian city "Portland… is your white fragility showing?" with "white fragility" highlighted in red text.
Woke training for campus cops not enough
Armed campus police were on hand at a standing room-only College Republicans event in May that was interrupted but not ended by a heckler who pulled a fire alarm.
Sgt. Willie Halliburton told The Fix at the time that "all sworn officers are armed if they are on duty at PSU."
Campus police are not only trained to meet state requirements, but also receive several PSU-specific trainings, according to their webpage: Historical Education of Marginalized Populations, Implicit/Unconscious Bias, Title IX/Sexual Violence Awareness, LGBTQ Awareness, Mental Health Awareness, PSU Policy, Disability Awareness and even "Micro Aggression."
The administration is evidently not confident in its additional trainings for campus police.
President Shoureshi expressed his sympathy for both Washington's family (below) and campus police in the wake of the grand jury decision, and gave campus activists reason to hope that it would be the first and last officer-involved shooting at PSU.
A 15-member committee that includes students, faculty and staff – plus "members of the greater Portland community" – helped Shoureshi pick two outside consulting firms to review both the shooting and PSU policy, the president told the community last week.
A firm that specializes in "police oversight and review," the OIR Group, is reviewing the shooting incident and all the evidence presented to the grand jury by the Portland Police Bureau.
The campus security firm Margolis Healy, whose CEO formerly led public safety at Princeton University, will conduct a "separate broader review" of campus safety policies, Shoureshi wrote.
It will include campus safety office staffing, officer training and "our relationship with local law enforcement, considering what may have changed over time since PSU's trustees approved a sworn, armed police force in December 2014."
When the school announced the arming of campus police in 2015, it cited the single Portland Police officer assigned to PSU's part of town and the lengthy response times.
"In the past week, I have read all the letters, messages, emails and comments from faculty, students, staff and community members," Shoureshi wrote. "Thank you. All of those will be forwarded to Margolis Healy."
The Board of Trustees is considering the issue at its Oct. 4 meeting, where the public can also comment. Margolis Healy is also holding "campus and public forums this fall," Shoureshi said: "Our goal is to move as rapidly as possible without compromising opportunities for fact finding, campus input and evidence-based outcomes."
Campus police and Rose City Antifa did not respond to Fix queries.
MORE: PSU gives cops guns to keep minorities down, activists claim
IMAGES: Jason Washington/Facebook, Autumn Berend
Like The College Fix on Facebook / Follow us on Twitter