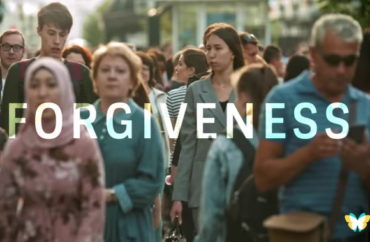 Experts discuss results from largest-ever study on forgiveness
The act of forgiveness decreases anxiety and depression in all humans across the globe, regardless of cultural differences, according to scholars who took part in a recent global study on forgiveness.
The experts discussed this shared planetary phenomenon during a June 5 panel focused on the results of a forgiveness study with nearly 5,000 participants, billed as the largest ever on the subject. This trial was a first of its kind because it looked at mental health outcomes and their effects across cultures.
"Regardless of race, gender, ethnicity, or socioeconomic status, everyone is dealing with issues that have to do with unforgiveness. Everybody needs forgiveness," said study advisor Andrea Ortega with Universidad del Sinú in Colombia.
Andrew Serazin, president of Templeton World Charity Foundation, which hosted the panel discussion and co-funded the study, said the results show the commonality of a shared humanity.
"We believe that greater knowledge about and practice of forgiveness can be a powerful tool to combat the growing polarization of our society," he said. "It can help build trust, common purpose and empathy amongst different peoples."
In the trial, participants who completed a forgiveness workbook and subsequently experienced less anxiety and depression, the researchers found.
The workbook is based on a strategy by psychologist Everett Worthington, professor emeritus at Virginia Commonwealth University, who created the REACH model, an acronym that stands for: Recall the hurt, Empathize with the offender, Altruistic gift, Commit and Hold on to the forgiveness.
Trial participants included people from Hong Kong, Indonesia, Ukraine, Colombia and South Africa, "countries that have all faced civil conflict or unrest in the recent past," a news release on the study results noted.
The panel featured scholars from different parts of the globe who shared how completing the workbook positively helped individuals.
"Our aim in the study was to contribute to the global health movement," Worthington said, adding they want to expand the project and not keep it at the local level.
"It [the handbook] is a brief intervention to help people forgive. I think it is important to realize what it is and what it is not," he said. "It is not intended to be a permanent cure for unforgiveness or for mental health problems."
Tyler VanderWeele, director of the Human Flourishing Program at Harvard University, said the trial "aimed to distill these principles of the REACH forgiveness model into a workbook that could be self-directed and done within two to three hours of work."
VanderWeele said the results "clearly indicated that this workbook is effective, both at promoting forgiveness and at reducing mental illness."
Serazin added "we firmly believe that forgiveness is a choice."
"It does not stand in the way of the pursuit of justice, and as we learn about how these tools get more widely disseminated, we will find the most appropriate way to deliver them."
MORE: Largest-ever study on forgiveness finds it decreases anxiety, depression
IMAGE: Templeton World Charity Foundation / YouTube screenshot
Like The College Fix on Facebook / Follow us on Twitter