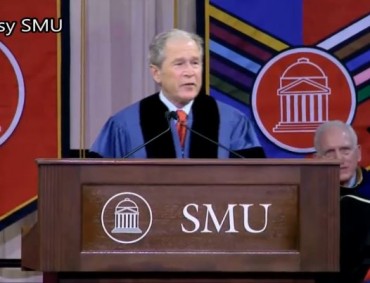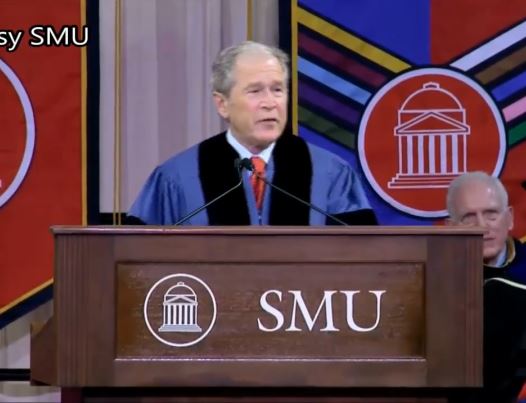 George W. Bush gave a commencement address Saturday at Southern Methodist University in Texas, a speech that included a few jokes as well as some spiritual words of inspiration for the class of 2015.
"Moses recognized the call to serve something greater than himself. He answered the call, led his people, and history was made," the former U.S. president said. "You, too, will be called at some point. The question … is: Will you be optimistic and hopeful, or pessimistic and cynical? Here are three reasons why you should be optimistic and hopeful."
Reason No. 1? The more than 2,000 graduates attended a "great" university (wife and former First Lady Laura Bush's alma mater; she currently serves as a SMU trustee).
"Secondly, you are blessed to live in the greatest nation – ever," said Bush, prompting applause. "Here you can strive and succeed as far as you dare to dream."
He encouraged student to serve others through volunteering and other selfless acts.
Quoting a World War II speech by Winston Churchill, Bush said: "These are not dark days. These are great days. The greatest our country has ever lived; and we must all thank God that we have been allowed, each of us according to our stations, to play a part in making these days memorable in the history of our race."
His third reason? A loving God.
"And finally, you can be hopeful because there is a loving god," he said. "Whether you agree with that statement is your choice, it is not your government's choice. It is essential to this nation's future that we remember that the freedom to worship who we want, and how we want—or not worship at all—is a core belief of our founding."
"I have made my choice," he went on. "I believe that the Almighty's grace and unconditional love will sustain you. I believe it will bring you joy amidst the trials of life. It will enable you to better see the beauty around you. It will provide a solid foundation amidst a rapidly changing, somewhat impersonal, technologically driven world. It will show you how to love your neighbor, forgive more easily, and approach success with humility—and failure without fear."
"It will inspire you to honor your parents and eventually be a better spouse and parent yourself. It will help you fully grasp the value of life—all life. It will remind you that money, power, and fame are false idols. And I hope and believe that God's love will inspire you to serve others."
The Hill notes his reference to religious liberty comes as controversy over religious liberty laws have roiled the country.
But Bush's speech also included several light-hearted moments, including this quip: "And as I like to tell the C students, you too can be president." The joke prompted huge applause and cheers.
Another joke was this one: "So I got a call from my landlord – [campus President] Gerald Turner. … I was relieved to hear President Turner ask if I believed in free speech. I said yeah. He said, 'Perfect. Here's your chance to give one.'"
Bush received standing ovations both when he took the podium and at the conclusion of his speech.
IMAGE: SMU acreenshot
Like The College Fix on Facebook / Follow us on Twitter