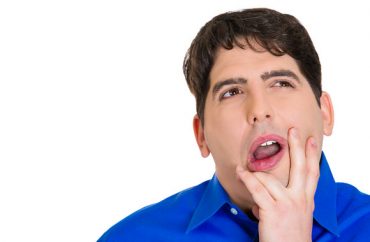 It really is difficult to take modern college goers seriously these days. It's worse when the ultra-politically correct inanity comes from the Ivy League.
Writing in the Columbia Spectator, Chanatip Tatiyakaroonwong argues that the many freedoms enjoyed by the Western world are a "white lie" (the title of his op-ed) — a "different, yet equally appalling, form of violence" compared to the overt homophobia of his native Thailand.
Tatiyakaroonwong laments how he had to perfect "passing as straight" to survive the "homophobic social pressures" of his homeland, yet, in New York City — where he admits he can "shamelessly walk into a gay bar or upload [his] photo to online dating profiles" — he is subject to "racial microaggressions and misogyny" from his gay peers.
Just what are these racial and sexual transgressions? Muscular profiles and people noting demographic preferences on dating sites.
Seriously.
In the world of online dating, these aggressions take on their most palpable form. If digital grids filled with photos of muscular torsos were not dehumanizing enough, it is also not uncommon to find racist messages such as "No Asians, No Blacks," "Only into European-looking guys," or the straightforward "White Only."

While many will argue that the racialized selectivity of potential partners is a matter of "personal preference," we should recall the second-wave feminist mantra: "The personal is political." Our desires are in fact constituted by sociopolitical structures. Therefore, we may unconsciously incorporate dominant political ideologies such as racism and misogyny into our desires while relegating them to the realm of the personal. For instance, we "prefer" white guys because they are ideologically constructed as more attractive, while Asians and other non-white groups are made undesirable.

One might wonder how something so intimate and private as "preference" can be political. Take something like compliments, which are similarly personal, as an example. Every now and then, I receive compliments from other dating app users. No matter how genuine they may sound, these words are also imbued with racist and misogynistic connotations. It is not a coincidence that I am often called "cute" but have never been told I'm "handsome," that I'm "smart" but not once have I heard "charming," and, of course, that I am "adorable," always followed by, "just not my type." These words flow out like a predetermined script that repeats itself through different actors.
Tatiyakaroonwong, who's studying sociocultural anthropology (surprise), concludes by saying "I don't feel liberated when my body becomes a signifier of ugliness in the 'handsome' face of white civilization," and that he's "betrayed" by the illusion of the West as "a picture-perfect sanctuary for queer folks."
Indeed. Somehow, some way, individuals — gay or otherwise — engaging in the freedom to note personal preferences for potential partners/mates is commensurate to … outright hatred and social ostracism.
When you read or hear the phrase "the Left devouring its own," look no further than this op-ed.
Like The College Fix on Facebook / Follow us on Twitter
IMAGE: Shutterstock