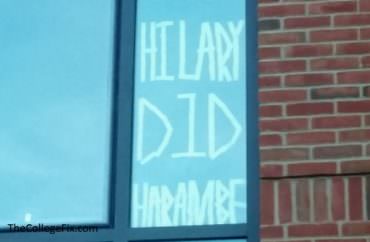 Hillary for Prison. Black Lives Matter. Make America Great Again. The American flag.
No. No. No. And no.
A new policy at Ohio State University forbids any kind of window decorations, prompting some students to voice frustration over a decision they contend not only violates their free speech rights, but also just sucks.
In fact, some students and alumni at the largest university in the state say administrators should reconsider their new residential living policy, which states "posting, hanging or otherwise displaying signage, lighting or other materials in or around the residence hall windows or on university window coverings is not permitted."
This new policy comes one year after the opening of new North Campus residential dorms. Several of these dorms face major roads, which allowed the general public to be able to see the dorm room window messages, a mix of the lighthearted to the serious.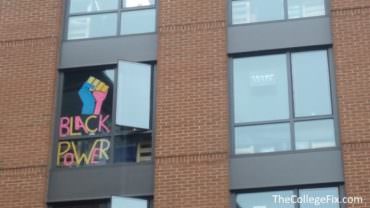 Within the past year, they included everything from "Hilary Did Harambe" and "Black Power" to displaying things such as an American flag and Make America Great Again hats, and campaign posters. Other messages included "Ducks out 4 Harambe" and "Donald Trump wears cargo shorts."
But according to this new policy, if students were to display any of these messages in their windows today, or flags or other decorations, they would be in violation of the Residential Living Handbook.
Nick Davis, a fourth-year natural resource management major who represents the College of Food, Agriculture and Environmental Science in the university's student government, said he takes extreme issue with this new policy, calling it a "ridiculous anti-First Amendment policy" in an interview with The College Fix.
He said the window art was not "harming anything" and it was "actually entertaining to the public and students."
"It's blatant censorship by a taxpayer funded institution. It is a priority of mine in Undergraduate Student Government to fight all forms of censorship," Davis told The Fix via e-mail.
Drew Davidson, a third year political science major, told The College Fix that this policy is a "strong overreach on the part of the university." He said a blanket ban on window signs without giving any context as to what should or should not be banned is "not right" and a violation of the First Amendment.
And a recent alumni of The Ohio State University, Abdijalil Dini, told The Fix that the window art ban "makes you wonder what administers are really doing."
Dini compared the ban to a landlord telling a tenant they are unable to have things such as a couch or house plant, or to celebrate their nationality by hanging a flag in their window.
"This isn't simply about art on windows, but a university that continues to trample education with conformism. The goal of true education is to challenge one's beliefs, and to express themselves, with art being one avenue," he told The Fix.
Meanwhile, Dave Isaacs, a spokesman for Ohio State's Office of Student Life, said the university "maintains the discretion and right to determine use of windows, walls, doors and other university spaces" in an email to The College Fix.
"Ohio State has a deep and abiding commitment to free speech," Isaacs said. "As with other rules and regulations that address university spaces, the rules within the Residential Living Handbook are consistent with the First Amendment."
However, when window art became prevalent among students last year, Isaacs had a much different stance on the practice.
"I am continually impressed by the creativity of Ohio State students. Although, we do hope that our students use this unique feature to highlight messages that are positive and not offensive or in poor taste," he told the Lantern in an interview last Autumn.
Now some students, such as Davidson, are working get the issue before the university's student government
"This is an overreach and the elected students of USG should stand up for the student body in any way they can. Especially with such a violation of students rights as this," he told The Fix.
Similarly, Ohio state Rep. Wes Goodman told The College Fix that "I am very troubled by this policy and believe it is a clear violation of student's rights to express a viewpoint in a generally accessible area and with no compelling university interest to limit expression in this way. I certainly hope that the university reconsiders their decision and finds a path forward that complies with the First Amendment."
Goodman, a Republican, is slated to introduce a new bill in the Ohio House of Representatives that addresses freedom of speech on college campuses.
Frank LoMonte, director of the Brechner Center for Freedom of Information at the University of Florida, told Inside Higher Ed that if it can be proven that the policy is based on an attempt to suppress students' free speech rights and a student is punished for violating it, Ohio State may have a problem on its hands.
"If the university didn't want political messages in people's windows because it might offend passersby, that's a content-based reason, and that presents a huge constitutional problem," LoMonte said.
And Moritz College of Law professor emeritus David Goldberger, who specializes in constitutional law, told the Lantern the new policy is "ridiculous."
"A flat-out ban is probably more than they can do," he said. "It is one thing for the university to be concerned about racist or inappropriate messages that would legitimately interfere with an educational environment … but a flat ban? Does that mean that you can't display the American flag?"
Like The College Fix on Facebook / Follow us on Twitter