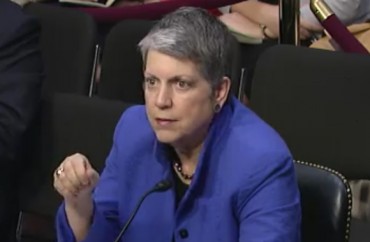 Administrative Procedure Act is only for some students
The federal government probably violated the Administrative Procedure Act when it imposed regulatory guidance on colleges governing campus sexual misconduct through a series of letters and consent decrees over the past six years.
Only one college challenged the unvetted rules in court: Oklahoma Wesleyan University, whose president is a vocal critic of turning higher education into a "day care."
Now that its undocumented students could be deported, the University of California System has suddenly discovered the Administrative Procedure Act and due process for a preferred set of students, while continuing to deny basic fairness to students accused of sexual misconduct.
In a 19-page lawsuit Friday against the federal agency she led in the Obama administration, UC President Janet Napolitano said the Department of Homeland Security violated the APA and due process by pledging to rescind the Deferred Action for Childhood Arrivals program in six months.
As DHS secretary, Napolitano implemented DACA to protect undocumented students from deportation during renewable two-year periods, on the explicit legal basis of "exercising prosecutorial discretion."
MORE: Dozens of professors arrested in pro-DACA street protest
The program was never subject to a formal rulemaking, a failure that led a federal judge to block its planned expansion, as CNN noted Wednesday:
Now, supporters of DACA are poised to argue formal rulemaking is necessary to unwind the program.
BREAKING: UC President Janet Napolitano filed a lawsuit against President Donald Trump's repeal of DACA on Friday. https://t.co/fiFnKQHy8H

— Daily Nexus (@dailynexus) September 8, 2017
The lawsuit argues the planned rescission of an order that never went through notice-and-comment is "capricious" and harms the university because it could potentially lose 4,000 "vital members of its community, students and employees."
Relying more on emotional appeals than sober legal analysis, the lawsuit says undocumented students "have structured their lives" and UC "has made significant investments" based on a government program that was on shaky legal ground from the start:
As a result of Defendants' actions, DACA recipients face the loss of their livelihood, education, and country. … The University also will lose intellectual capital and productivity, as DACA recipients are deprived of the work authorizations needed to serve in the professional roles in which both they and the University have so heavily invested.
The strongest part of UC's argument appears to be the Trump administration's failure to provide a "reasoned basis" for pulling back the program: The government simply compared DACA to a program (DAPA) for undocumented parents that a federal court blocked and the Trump administration rescinded.
MORE: Tiny pro-DACA rally at giant university next to Mexican border
This comparison of the two programs for legal purposes is not sufficient under the APA and Fifth Amendment, Napolitano and the UC regents argue:
DAPA is a separate program from DACA. The two programs were governed by different sets of rules, applied to different individuals, and conferred different benefits. Therefore, the alleged illegality of DAPA does not justify the rescission of DACA, and Defendants' failure to recognize the many differences between the programs renders their decision unreasonable. …

Because the Rescission is based on an incorrect legal premise—the purported illegality of DACA—it cannot survive judicial review under the APA.
Because "DHS has previously concluded that programs like DACA are a lawful exercise of the Executive Branch's broad statutory authority" and the Department of Justice upheld both DACA and DAPA as a "lawful exercise of … prosecutorial discretion," the Trump administration must credibly explain its departure from the past administration's interpretation.
Apparently ignorant that the Obama administration argued its sexual-misconduct guidance did not make "substantive [new] rules" that required an APA rulemaking – a momentous judgment that UC never contested in court or public opinion – UC now argues that a DACA rescission would impose "substantive rules" by constraining DHS's discretion, and thus required an APA rulemaking.
A statement from Napolitano's office says its lawsuit is the first to be filed by a university against the planned DACA rescission.
Napolitano appears to have flip-flopped on due process for accused students since 2014, a year after she left the Obama administration to lead UC, when she publicly questioned elements of the sexual-misconduct guidance. She now argues that rescinding that guidance "will prompt fears of reduced support for survivors of sexual violence."
Read the lawsuit and statement.
MORE: Napolitano flip-flops on due process for accused students
IMAGE: Senate HELP Committee screenshot
Like The College Fix on Facebook / Follow us on Twitter