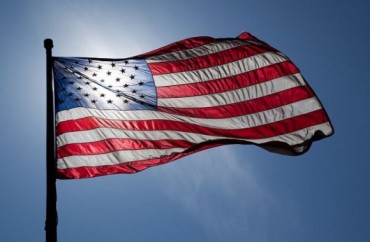 A Minnesota high school has changed its mind about banning displays of all flags after approximately 25 students showed up one morning — all flying the American flag from their pickups.
Rocori High School had instituted the ban after some students displayed the Confederate flag on their vehicles last spring.
"Either all flags can be displayed and flown or none of the flags can be accepted," an official school statement read. "While the Rocori School District preference would be to have respectful, appropriate and positive displays, the fact that this was not the outcome in the spring resulted in the action to limit the displays."
This new policy didn't sit well with senior Cole Staneart and his friends. As EAGNews.org reports, the students arrived to school last Wednesday in their trucks … all complete with Old Glory waving from their (truck) beds.
Rocori High School rescinds its ban on flag displays on cars after students protested with U.S. flags https://t.co/TxtUj0Dua2 pic.twitter.com/AQA6Lk973Q

— MPR News (@MPRnews) September 7, 2017
"We wouldn't care if they didn't allow Confederate flags," student Chase Klein said. "That would be fine with us, so long as we can still fly the American flag."
MORE: California school bans American flag, allows Mexican flag
"What we see out there today is an incredibly powerful message about the American flag and very, very impressive," superintendent Scott Staska told WJON. "We have a row of 18 trucks out there with an American flag off the back end. That display is very, very impressive. If we had that display every day without other controversial flags, without other controversial issues, we'd be incredibly supportive of it."

Staska said the whole issue centered on balancing students' First Amendment rights with a respectful learning environment.

"In a situation when there's a difference of opinion, if you're removing the one side you're limiting speech on the one side and you're allowing speech on the other side," he said. "So, it's a fairly delicate balance on the issue of free speech. You know, part of it is also protecting everybody's rights."

Later Wednesday, school officials announced they came to a compromise on the flag debacle that allows the American flag, but no others. Students will be responsible for policing their classmates in the parking lot, with a watchful eye out for the Confederate flag, which is still explicitly banned.
Staneart said he'd even assist school personnel with enforcement: "If I see students (flying) a Confederate flag, I'll ask them to take it down," he said. "It's not appropriate."
MORE: Students balk as Ohio State forbids hanging anything — including American flags — from windows
MORE: College that took down American flag says it will sic police on veterans who protest again
MORE: Students told to stop 'USA' chant, remove American flag
Like The College Fix on Facebook / Follow us on Twitter